Steubenville Victim's Mother Tells Daughter's Rapists 'I Have Pity For You Both' After Guilty Verdict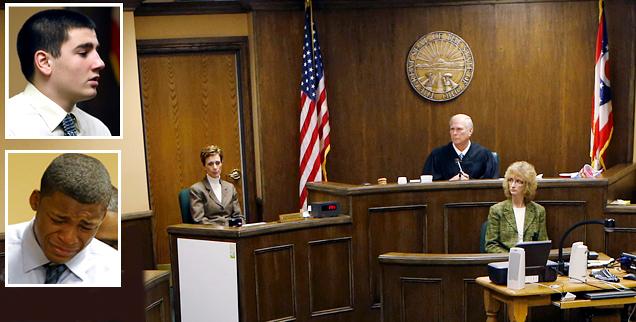 The mother of the teenage girl raped by two Steubenville high school footballers has spoken out following Sunday's guilty verdict.
In a statement directed at the defendants, Ma'lik Richmond, 16, and Trent Mays, 17, the victim's mom said she pitied both boys for their despicable behavior.
"It did not matter what school you went to, what city you live in, or what sport you've played," she said about the teens who sexually assaulted her 16-year-old daughter during a booze-filled party last August.
Article continues below advertisement
"Human compassion is not taught by a teacher, a coach or a parent. It is a God-given gift instilled in all of us. You displayed not only a lack of compassion but a lack of any moral code."
During the trial two witnesses claimed the defendants not only digitally penetrated the girl while she was intoxicated but also took photos with their cellphones, one of which ended up on Instagram.
"Your decisions that night affected countless lives including those most dear to you," the victim's mother continued. "You were your own accuser through the social media that you chose to publish your criminal conduct on.
MORE ON:
Celebrity Justice
"This does not define who my daughter is. She will persevere, grow and move on. I have pity for you both. I hope you fear the Lord, repent for your actions and pray hard for his forgiveness."
As RadarOnline.com reported, the boys were found guilty of rape on Sunday morning and sentenced to one and two years in juvenile detention.
Mays received an additional year for the photos on his cellphone.
Both boys broke down in court when the verdict was read. They also apologized for their actions.