Blonde Ambition! Sofia Vergara Ditches Brunette Look For Lighter Locks!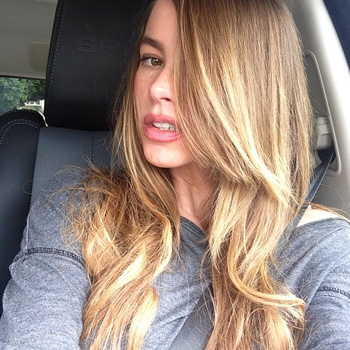 Sofia Vergara may turn heads as a sultry brunette, but as a blonde she looks even better!
The Modern Family star posted a snap on her Twitter account Tuesday showing off much lighter locks.
In the self portrait, taken inside her car moments after getting her new 'do, the 40-year-old beauty's new streaks showed her drastic style change. She even gave a shout out to her stylist!
"Blond ambitions!! Gracias to the amazing Kelly Klain I'm ready for summer!" the actress tweeted alongside the picture.
Article continues below advertisement
Sofia posed sans make-up, despite telling Vogue recently that she feels more sexy when she is made up.
"I want to tell you that I feel sexy when I just wake up, a little make-up and a little bit of perfume - (but) no," she said.
"I feel sexy when I am full make-up on, hair teased, high heels, push-up bra, I mean everything. Then I feel sexy."