Rihanna Leaves 2000 School Children Waiting As She Arrives Over 3 Hours Late For Appearance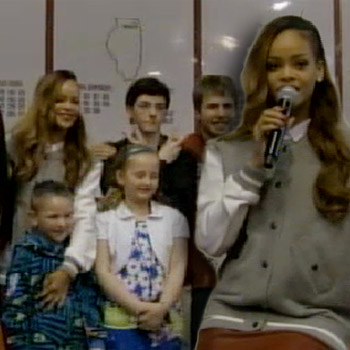 Rihanna was on the receiving end of some very angry fans on Friday after she left them waiting three and a half hours for a promised appearance at a Chicago school.
The singer was set to take the stage at Barrington High School after they won first place in the national 'Shine Like A Diamond' contest.
However she left the 2,000 kids waiting in the gymnasium for more than three hours with many of them blogging and tweeting their frustration at her time keeping.
Article continues below advertisement
"Looks like I'm not the only impatient person!!," wrote one pupil. "#everyoneisleaving"
"Kids are frustrated, hungry, annoyed and are even leaving to go to work," blogged Barrington Life on The Chicago Sun-Times.
The live video blog showed the children who hadn't walked out having dance contests to while away the time.
When she was an hour and a half late she gave a glimmer of hope that she was still coming by tweeting.
"On my way to Barrington High School in Chicago! I can't wait to meet these kids man!! They're major inspirational life changers."
However almost half an hour after that she posted a photo of herself on the freeway with the tagline "This Chicago traffic is now working."
The singer did finally turn up and was dressed down in a varsity jacket and pencil skirt, but did not acknowledge her late arrival, instead she spoke about the winning video.
"I was so impressed and touched seeing the video," she said. "I wanted to come and express that to you in person."
She then called the producers of the video on stage and told them to "keep up the good work" before giving them all hugs. She then stayed to have pictures taken with groups of other students.
Her appearance lasted all of twelve minutes.
Rihanna is set to perform at the United Center in Chicago tonight.