Rescue Workers Hunting For Heroic Man And Woman Who Jumped Into Freezing Big Sioux River To Save 6-Year-Old Boy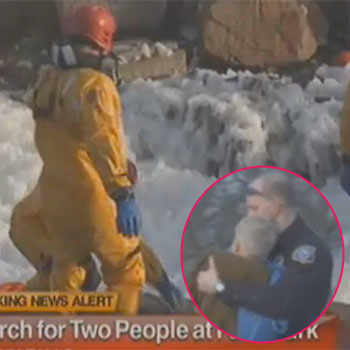 Rescue workers are searching for a pair of good samaritans, a man and a woman, who leapt into the icy Big Sioux River in South Dakota to save a 6-year-old boy who fell in Thursday evening and RadarOnline.com has the video.
"I was with him and he's with family members and he's doing fine," Sioux Falls Fire Rescue Chief Jim Sideras told KDLT, adding the child was saved after a "relative of his jumped in after him and then a male jumped in after them."
Article continues below advertisement
Sideras said officials didn't know "what's under the water," indicating that there could be rebar as well as "a lot of different obstacles" to cope with, such as ice, and layers of foam "6-10 feet deep."
Another onlooker, Napoleon Ducheneaux, described the scene as the two people saved the child just short of the river's falls.
"By the time I got there he was already in there and they had him by the arm," Ducheneaux explained. "They had the kid in his arm and he slipped and he fell. And then not too long after that the kid popped up a little bit to the right and climbed up the rocks by himself.
"I was using my jacket to fan all the suds and stuff away but, you know, I heard him and the woman talking. He said something like, 'You hold on to me, I'll hold on to you,' and I kept telling them to come to my voice."
Rescue officials had been working to move water off the river "so that we can get a boat onto the water," Sideras said.
The timing of the incident was not good for the missing pair, as temperatures reached 50 degrees for the first time in months.