iPad Peeping Tom! Man Caught Trying To Take Upskirt Shots Of Model At Pet Store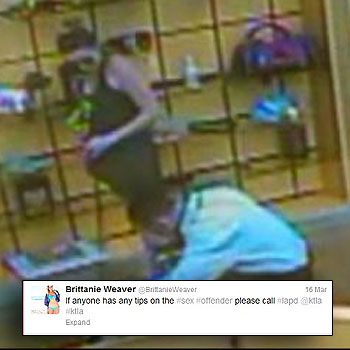 Model Brittanie Weaver was violated on Friday afternoon when an unidentified man followed her around a Sherman Oaks, Calif. pet store trying to take upskirt shots with his iPad and RadarOnline.com has photos of the disturbing incident.
According to KTLA 5, authorities are still searching for the man caught on the Puppy and Me store's surveillance footage.
"He kept kneeling down and like falling over and couldn't seem to balance properly," Brittanie explained to the news station.
Article continues below advertisement
"And I realized by the time I got to the counter that he had been filming up my dress with his iPad."
The man had been following Brittanie, 23, around the pet store pretending to pet her dog, but was actually attempting to take inappropriate photos with his Apple device.
"I wanted to confront him but he had a city employee badge on and I didn't know for sure and I didn't want to have a confrontation," Brittanie said.
"So I just tried to remain calm and tried to write a note to the girls at the counter."
Brittanie then alerted the police, who have released the security footage in an attempt to identify and catch the man responsible.
"I cannot believe what just happened," Brittanie wrote on her Twitter page. "So violated."
She continued, "So sickened by everything that happened today. Exhausted.
"Being a model and having control over what you put out is one thing. No one should be violated."