Exclusive
She Can Still Pour A Pint! Amazing Story Of The World's Oldest Barmaid, Going Strong At 98!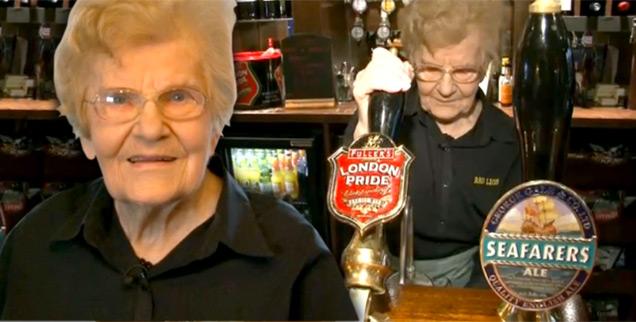 She started pouring pints before World War II, and she's still going strong!
Spritely British senior citizen, Dolly Saville of Wendover, Buckinghamshire, is believed to be the world's oldest barmaid at 98 years young. But age is nothing but a number for Dolly, who plans to continue serving drinks to patrons at the Red Lion Hotel "hopefully till I'm 100!" she tells RadarOnline.com in an exclusive interview.
Article continues below advertisement
The loyal bartender has worked at the pub, which is also a bed and breakfast, for around 70 years (she can't quite remember her starting date!) and she doesn't get tired of it one bit.
"I love people," she says. "The job's about meeting and serving new people and we get some really nice customers."
Not one to shirk her responsibilities, Dolly works three shifts a week – Monday, Wednesday and Thursday from 12p.m. -3p.m.
"I don't get tired because I really enjoy what I do," Dolly beams. "Working here keeps me out of mischief!"
Dolly, who turns 99 in April, always wanted to work in a pub. "I didn't want to do anything else," she reveals, swearing that she pours the perfect pint.
"A little bit of head, nothing more, that's the secret," she says. "It's all in the tilt of the glass."
During her time, Dolly has served many celebrities who have dropped in to the pub for a refresher. British Ballerina Dame Margot Fonteyn, soccer legend Stanley Matthews and former prime minister, Edward Heath.
Article continues below advertisement
"Edward Heath gave me a two schilling tip," Dolly tells RadarOnline.com proudly.
However, her favorite famous customer was former James Bond star Pierce Brosnan.
"He was lovely," Dolly swoons. "A very nice looking man! Very easy on the eye!"
Being the oldest barmaid in Britain has its perks too.
After the Queen discovered Dolly's story, she was invited round to Buckingham Palace for afternoon tea!
"I received a letter from the palace inviting me round for tea for my outstanding services to the pub trade," she reveals. "It was wonderful meeting the Queen – and an experience I will never forget. I'd never been in a palace before and I felt so proud to be invited."
And Dolly is already thinking of grooming her replacement – her great, great granddaughter Darcey.
"When she's old enough, I'll teach her how to pull a pint," Dolly says.
"But she won't be taking my job," she laughs.