Martha Stewart's Beauty Regime Revealed: Pimple Popping, Botox and Unbrushed Hair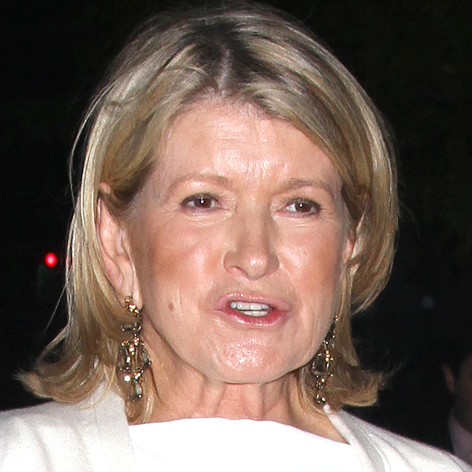 Spot the domestic goddess!
Martha Stewart's beauty regime has come to a head and it isn't pretty.
The 71-year-old - who is a former model - has revealed the secrets to her youthful complexion, perfectly coiffed hair and soft hands.
But she tells Allure magazine that is isn't all about fancy facials and $500 haircuts.
"I rarely get blemishes now," she said when asked how she deals with breakouts. "But if perchance I'm starting to get one, I extract it with my old-fashion fingers, unless I'm getting a facial later that week. I don't like metal on my face."
Article continues below advertisement
And Stewart, whose latest book is titled Living the Good Long Life, is particular about what she puts in her hair too - even going so far as to avoid a hairbrush.
Martha Stewart Pulled Her Hair Out Over Ex-Husband, Says Pal
"My hair is actually thicker now and grows faster than it did probably 25 years ago. On the weekend, I don't even like to brush it. I get screamed at by my daughter."
Stewart uses an unusual technique to keep her hands looking young.
"I don't want my hands to get unnaturally bony looking or wrinkly looking," she said. "I do yoga hand exercises. They work. My hands are very strong."
She also credits looking good to drinking the juice of a whole lemon every morning and washing with a silicone soap.
While she admits splashing out on super expensive Creme de la Mer moisturizer and having Botox she says she isn't quite ready go down the plastic surgery route.
"I haven't had facial surgery yet, but I did get Juvederm filler after my dog bashed my lip and split it open. I tried Botox. It works for certain things, like for skin under the chin, but I don't want a taut jawline and a quizzical look."