Martha Stewart Demanded No Competition From Her Celeb Friends At JCP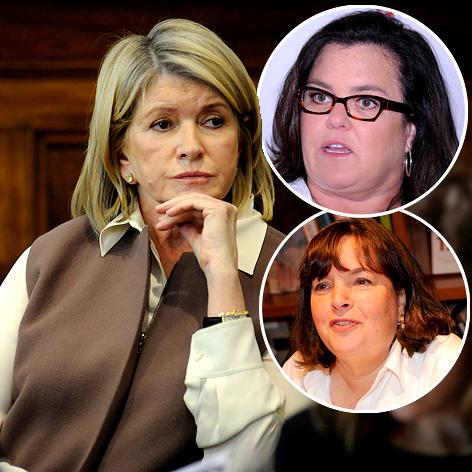 Hauled into court for allegedly breaking her contract with Macy's when her Martha Stewart Living Omnimedia began selling its products at JC Penney, it's now been uncovered that Stewart demanded JCP not do business with several of her celeb friends as part of her deal with the discount chain.
A clause in her JCP deal reads that the store can not also carry products from her competitors. "Competitive Product means any product . . . associated with...Ina Garten (including Barefoot Contessa), The Food Network, Real Simple, Better Homes and Gardens, epicurious.com or Rosie O'Donnell."
Article continues below advertisement
"Martha is knifing some of the people that have offered her a lot of support over her career. Rosie O'Donnell actually went to her trial to show public support, and has appeared several times on her talk show," a source close to the deal told the New York Post.
Garten "is the hardest pill to swallow for Martha" because they were friends and she even wrote the foreword to Ina's debut book, The Barefoot Contessa, the source said. "But Garten ditched Martha for the producers of Nigella Lawson's show to create her popular TV show.
MORE ON:
Celebrity Justice
Martha Stewart Pulled Her Hair Out Over Ex-Husband, Says Pal
"It is standard business practice for partnership agreements involving celebrity-endorsed brands to include terms related to competitive products . . . This does not change the fact that Martha is a friend and huge supporter of all of the people mentioned," a spokesman for Stewart Omnimedia told the Post.
The case involving Stewart and her company's contracts with Macy's and JCP has now been ordered into arbitration.