Marie Osmond Reflects On Son's Tragic Suicide In New Book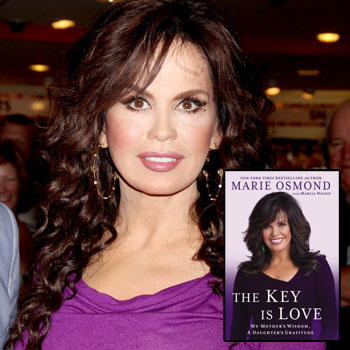 Marie Osmond, in her new book The Key Is Love, opens up about the raw and painful memories surrounding the Feb. 26, 2010 death of her son, Michael Bryan (Blosil),and RadarOnline.com has the details.
"My sweet son left me, his family and friends by jumping from the balcony of his eight floor college apartment in Los Angeles," she wrote in the book, which People published excerpts from. "Even as I write this I try to cry out, 'Please don't let this be true.'"
Article continues below advertisement
The beauty recalled the tragic moment when she was told of of her son's premature end.
"The officer came to the door," she wrote. "He said, 'I'm very sorry to inform you that your son Michael committed suicide at 9:25 this evening.
"I thought someone had run a knife into my heart."
Marie wrote that "Michael was an adventuresome child" as he grew up, and that "it was impossible for anyone in the family to stay upset or angry if he was around."
The boy, who was adopted from a troubled mother, developed drug problems as an adolescent that haunted him on and off until the end, despite multiple rehab stints, Marie wrote.
"I know now that my son was masking how deeply depressed he was," she wrote. "My one consolation is that I never end a conversation with my children without saying, 'I love you.' It was the last thing I said to my son."
Marie concludes writing, "Not a day goes by that Michael isn't my first thought in the morning and my last thought before I fall asleep. I felt him near my shoulder when I remarried … but it doesn't ever get better … I've come to accept that."
The Key Is Love is slated for release on April 2.