Lohan Adds Yet Another To The Ever Expanding Album -- Take A Stroll Down Lindsay Mug Shot Memory Lane!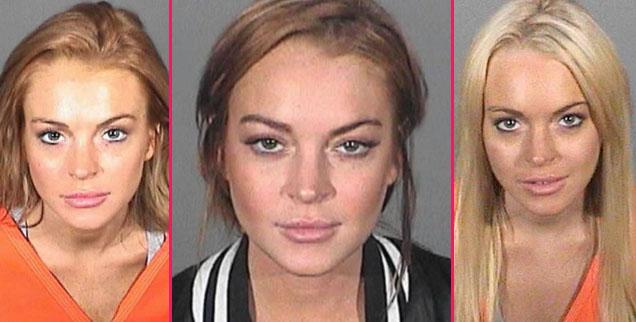 It's a good thing orange suits her!
With the latest addition fresh off the press, Lindsay Lohan has more than enough booking photos now to create her own hall of shame!
Looking back over the past six years of Lohan's criminal justice woes it's easy to spot a familiar pattern — hopefully, one she will be able to break this time round after yet another court ordered stint in rehab --- Meanwhile, allow RadarOnline.com to take you for a stroll down Lindsay Lohan mug shot memory lane.
Article continues below advertisement
As previously reported, the trouble prone 26-year-old has just agreed to undergo 90 days treatment in a 'locked rehab facility' as part of a plea deal struck Monday in her lying to the cops case which stemmed from a car crash Lohan was involved in back in June 2012.
Despite escaping jail by the skin of her teeth, Lohan was still required to go through police processing — and was ordered by Judge James Dabney Monday that she must surrender to the Santa Monica Police Department in the next seven days to be formally booked, fingerprinted and have yet another mug shot taken to add to her already impressive collection.
The actress has been busted so many times now, spending almost her entire adulthood to date on probation following multiple infractions, that she's a veritable pro when it comes to booking photos protocol — as evidenced by her latest (smiling) criminal portrait, taken March 19.
So what else has La Lohan been booked for in the past?
Mugshot 1
In July 2007 Lohan was arrested for driving under the influence. Police also found a bag of cocaine in her pocket.
Article continues below advertisement
Mugshot 2
In November 2007 LiLo surrendered to serve a short sentence - 84 minutes of which she served - in connection to her previous DUI conviction.
Mugshot 3
Lohan's decision to swan off to Cannes, France instead of attending her DUI progress hearing in 2010 led to her third booking photo. She was arrested when she touched down on American soil and was sentenced to 90 days behind bars for violating her probation. She served just 14.
Mugshot 4
Lindsay violated her probation yet again in September 2010 after she failed a court mandated drug test. She spent a few hours in jail before being released on bail.
Mugshot 5
Lohan's fifth mugshot was taken October 19 2011 after her probation was revoked because she didn't fulfill her community service obligations at a woman's shelter. Her bail was set at $100,000 which she paid, but not before she was led from the courtroom in handcuffs.