Exclusive
'Tardy For The Party' Lawsuit Is Bogus! Kim Zolciak Claims She's Paid Kandi Burruss More Than $23K In Royalties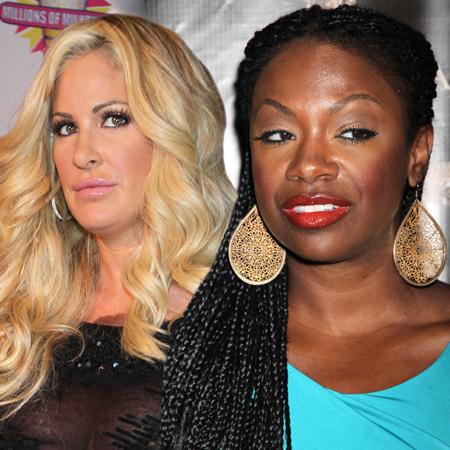 Not only does Real Housewives of Atlanta star Kim Zolciak refute the lawsuit filed against her by castmate Kandi Burruss, but the Tardy For The Party singer claims she's already paid her more than $23,000 in royalties!
"The lawsuit has absolutely no merit. Kim's attorney and account have double and triple checked everything that she's done," Kim's rep Mike Paul told RadarOnline.com in an exclusive interview.
Article continues below advertisement
"Kandi's work in dealing with the entire business side of the song was sloppy and messy. You can't then say after the fact that you should have done this and you should have done that. The timing is extremely suspicious for a number of reasons. The song is almost four years old, why now?"
As RadarOnline.com exclusively reported last week, Kandi filed a lawsuit against Kim alleging copyright infringement on her hit song Tardy For The Party — because Kandi claims she wrote it!
"The facts are extremely important so that the story is clear. It was a song that was created originally by Kim and her daughter four years ago, during season one, before Kandi even joined the cast," Mike Paul said.
"Then a year and a half later in season two they decided to take that song and change it. It wasn't some new song written from scratch."
According to a press release from Kim's camp, there are four people involved in the creation of the song and four people that get paid on it — Kim, her daughter, Kandi and Don Vito.
Article continues below advertisement
"To date, Kim has written checks to Kandi and Don Vito in excess of $23,000. In fact, we believe that Kim may have overpaid a portion of their share to date based on the actual record sales," the release said.
"We assume this has been a major lesson for Kandi. Maybe focusing on her next 15 minutes of fame should not have been the priority for Kandi versus three and a half years after the song was released, Kandi realizing she handled all aspects of the song in a very sloppy and messy way. We understand it is not the first time either. As Kandi is also a music industry veteran, it is also a shame."
Finally, Kim's rep exclusively told RadarOnline.com, "Two days before the reunion show is taped, the lawsuit lands on Kim's desk. Awfully suspicious timing.
"I'm a PR expert, so here's my advice to Kandi: When you ask the media microscope to be on you, be careful what you ask for. Because it sees all of your business, all of your mistakes, all of your slop. You brought on the lawsuit, we didn't. We're just responding to it."