Karl Lagerfeld On Kim Kardashian Wearing Chanel, 'I'm Not There As A Fashion Judge'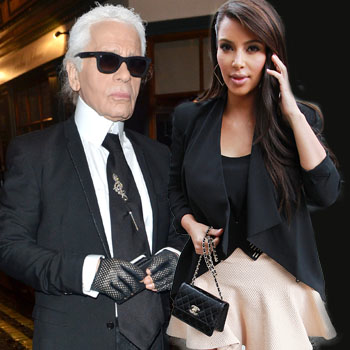 Karl Lagerfeld may not be offering Kim Kardashian free Chanel bags, but the legendary fashion designer can't keep her or her sisters from buying them retail!
In a video interview with The Huffington Post, the 79-year-old style icon expresses his opinions about reality television's most famous family and whether or not he is cool with them carrying his ridiculously expensive designer purses – and RadarOnline.com has the details.
Article continues below advertisement
"It's very pretentious to say 'I don't want to see this on that person, etc.' Everybody is allowed to buy it, to enjoy it," Lagerfeld told the interviewer, when asked how he feels about the Kardashian girls wearing his brand.
"I'm not there as a fashion judge, I'm there as a designer."
Lagerfeld has gotten himself into hot water for having some not-so-nice things to say about other celebrities in the past, calling Adele "a little too fat" in 2012.
Do you think Karl Lagerfeld was holding back in his interview? Sound off below.