Kendra Wilkinson Shares Her Slim-Down Secret: Ab Cuts & A High Fiber Diet!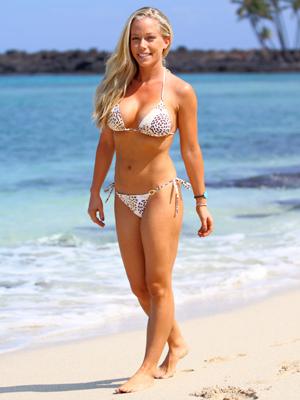 It takes a brave person to appear in a swimsuit on national TV (even if you're a former Playboy bunny), but Kendra Wilkinson-Baskett, who's currently competing on ABC's diving show Splash, has a secret to staying in great shape – Ab Cuts and a high fiber diet. She says the killer combo has helped her lose an amazing 10 pounds in 10 days!
"This is the first time in three years that I haven't been stressed about my fitness. People are saying: 'I've never seen you look so good!' and I'm like, 'Wow! Well, then I guess what I'm doing is working!' " Kendra, 27, dishes to OK! in an exclusive interview.
Article continues below advertisement
Kendra -- also the star of WEtv's Kendra on Top -- says she swapped junk food (guess that means no potato chips!) for a high-fiber diet supplemented with Ab Cuts.
"I've been taking Ab Cuts for about two years now, and it has really boosted my metabolism probably 100 percent," she says.
"That is the key to my body: Ab Cuts and a high-fiber diet."
Kendra starts her morning with a smart breakfast – a bowl of cereal with almond milk. "Trader Joe's Organic High Fiber O's are the best stuff," she shares.
If her stomach starts grumbling around mid-morning, Kendra says her go-to snack is food with protein in it – something like a banana with almond butter. "Right now, I have to really know the difference between what I need and what I want," says Kendra.
"I need fuel right before I go swimming."
Another big change in Kendra's food regimen is that she now eats her biggest meal of the day at lunch – another smart decision.
Article continues below advertisement
"I used to eat salads at lunch, and then I'd have chicken and pasta for dinner, but now it's the opposite," she explains. "I'll have a salad with grilled chicken for lunch and then just a plain salad for dinner."
Kendra admits she's a junk-food junkie who's naturally still tempted by sweets, but once dinner is over, she says the kitchen is closed!
"Last night I was putting little Hank to bed and I knew I had Oreos in my cabinet downstairs," she relates. "I'm about to head downstairs but it was dark. We had turned off all the lights. I said to myself, 'Do I really need this Oreo? Do I need it enough to go downstairs, turn on all the lights, reach into the cabinet? No, I don't need it.' "
Ab Cuts are available at Walmart.