Bootylicious In All Shapes & Sizes! The 10 Most Bangin' Bikini Backsides In Hollywood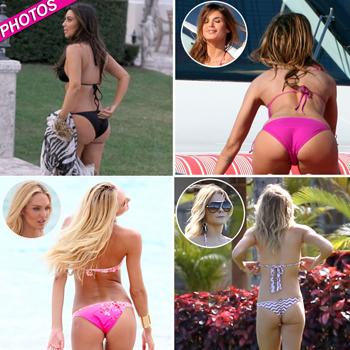 Who has the most bootylicious bikini backside in Hollywood?
Big or small, these sexy celebrities have garnered a fair bit of attention for their divine derrieres, and aren't bashful about showing off their assets in skimpy swimsuits! RadarOnline.com has photos of the 10 best bikini backsides in Hollywood.
Kanye West clearly likes his women bottom heavy! After dating the terrifically tushed Amber Rose, the hip-hop star moved on to reality star Kim Kardashian, who has one of the most talked about bottoms in the world.
Article continues below advertisement
Justin Timberlake found his dream girl in Jessica Biel, who not only has booty but also brains! It isn't surprising that the blockbuster babe, who has one of the most highly hyped assets in town, nabbed herself one of the most sought after bachelors.
And it's no secret how Irina Shayk landed herself a career as a top bikini model! The Sports Illustrated Swimsuit Edition siren has a perfectly toned and shaped tush, which she flaunts in impossibly tiny bikinis.