What Really Caused Ryan & Julianne's Split: Hard Partying Hough Was Too Much For Seacrest To Deal With!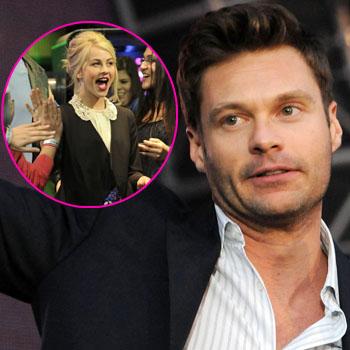 Ryan Seacrest broke up with Julianne Hough because of the young blonde's hard-partying ways, a new report claims.
"Ryan tried his best to keep up with Julianne, but in the end he just couldn't," an insider exclusively tells the new issue of the National Enquirer.
"He's older, already established and set in his ways, and he was getting tired of telling her to lay off the alcohol and stop overindulging. They constantly fought because he wanted her to slow down and she wanted him to lighten up and enjoy life more."
Article continues below advertisement
According to the Enquirer, Ryan, 38, "couldn't stand to watch her throw her life away."
As RadarOnline.com previously reported, after the couple's breakup was announced last Friday, Julianne, 24, wasted no time spending the weekend with a gaggle of girlfriends — "Beachin' with my bitches," she tweeted on Saturday -- and by Sunday she was courtside at the Lakers game with Big Bang Theory pal Kaley Cuoco and Vampire Diaries star Nina Dobrev.
To find out more about why Ryan grew tired of Julianne's partying, pick up the latest issue of National Enquirer -- on newsstands Thursday.