Exclusive
My Sister's Keeper! Jessica Simpson On Mother's Orders To Keep An Eye On Hard Partying Ashlee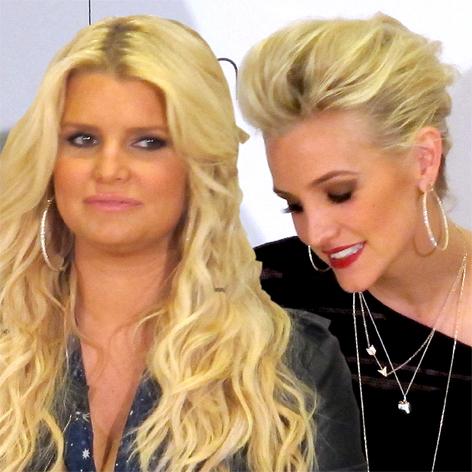 Jessica Simpson has been discreetly told by mom Tina to keep an eye on troubled little sister Ashlee, RadarOnline.com is exclusively reporting.
As we previously reported, the 32-year-old singer-turned-fashion-designer was accompanied by her sibling on a promotional tour of Jessica Simpson Girl's Collection event in Charlotte, N.C. mall last weekend. The two also went for a family dinner at BLT Steak at the Ritz-Carlton.
Article continues below advertisement
Ashlee, 28, has somewhat curtailed her hard partying lifestyle in recent weeks with the help of her family, but Tina believes that being under the watchful eye of Jessica can only helps matters.
"Tina's asked Jessica to look out for Ashlee and make sure she doesn't start partying too hard once again ," a source close to the Simpson family tells Radar.
"With Jessica focusing on her second pregnancy, she's a calming influence on Ashlee because she doesn't want to go out on the town.
"Instead, she prefers family nights in relaxing and has encouraged Ashlee to join them when they are all together, which she has been doing.
"Ashlee's been looking a lot more like her old self lately appears a lot healthier.
"However, Tina has told Jessica to keep an eye on the situation, just like she is, to see if Ashlee falls back into her bad old ways again -- only time will tell," the insider reveals.
As we previously reported, Jessica confirmed Radar's exclusive earlier this month -- telling Jimmy Kimmel that she's expecting a boy!
When Kimmel made reference to the baby, Jessica called her second pregnancy "totally different," marked by awful bouts of vomiting.
"The crazy thing is I never knew a wiener could make me nauseous," the 32-year-old quipped in her typically sassy way. "Well I guess I just told the world that I'm having a boy!"