Have You Seen This Woman? iPad Thief's Odd Selfies Stream To Original Owner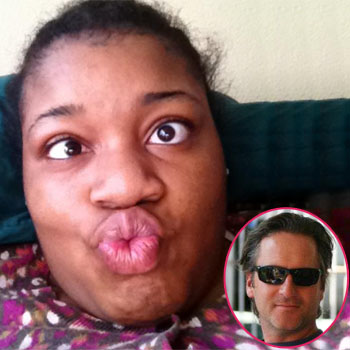 Do you recognize this woman?
There's no name to match the face yet, but according to Little Rock, Ark. resident Allen Engstram it's the woman who stole his iPad and has been taking bizarre self-portraits with it — that are now streaming to his family's Apple products thanks to the iCloud — and RadarOnline.com has some of the photos and all the details.
"He said, 'Mommy, who's this?' And of course she said, 'I have no idea who that is.' It showed up on my phone too," Allen explained to KTHV News of the woman's face popping up on his son Mason's device.
Article continues below advertisement
"After a while we figured out what was going on. That's the person that has my iPad."
Allen left his iPad on an airplane during a flight from Phoenix to Denver, and even though his name and contact information is etched on the back, the woman who is clearly enjoying his iPad has yet to return it so the businessman is hoping someone might recognize her.
"It's been a continuing fountain of entertainment for me. It's just like I'll wake up one day and they'll be new pictures there and I'm like oh my gosh, she has no idea," Allen said.
"I have no problem with putting it on Facebook, because hey, it's fun for me and it's apparently fun for a lot of other people and there's always the chance that someone will say 'Hey, I know who that is.' And I want my iPad back."
Allen hasn't filed a police report yet, but will have plenty of evidence piled up when he does!