Giuliana Rancic Shows Off Her Swimsuit Bod On Hawaiian Vacation With Her Husband & Baby Son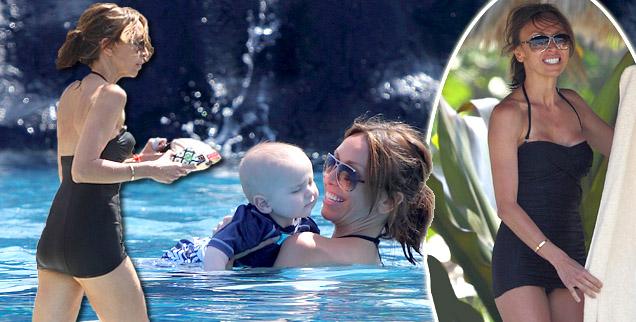 Giuliana Rancic enjoyed a tender swim with her six-month-old baby son Edward Duke on Thursday during a Hawaiian vacation.
The E! hostess, looking gorgeous in a one-piece black halter swimsuit and aviator sunglasses, beamed as she snuggled Edward close to her in the water at the pool of a luxury hotel. And Edward's proud father, Bill Rancic, later joined them for a family swim.
Looking every inch the proud dad, Bill held his son tight as they paddled around together with Giuliana and another woman, who resembled a friend or nanny.
Article continues below advertisement
It was a touching moment for the reality stars, who married in 2007 and struggled hard to have a baby. After undergoing unsuccessful infertility treatments, Giuliana discovered she had breast cancer. In 2011, the Fashion Police beauty underwent a double mastectomy (and later had breast reconstruction).
She and Bill finally experienced the joy of parenthood in August when Edward was born via a gestational surrogate.
"G" - as her friends call her - sparked controversy recently when she said she put her marriage to Bill first, and baby Edward second. But Giuliana explained that the best thing she could give to her boy would be parents with an iron-clad bond.
It's clear from these photos that Edward is as big a light in her life as hubby Bill! And Giuliana has said of her son, "I just love spending every second I can with him."