Friday Night Lights Scribe Admits To Compulsive Shopping Addiction, Spent Over $630K On Clothes In 3 Years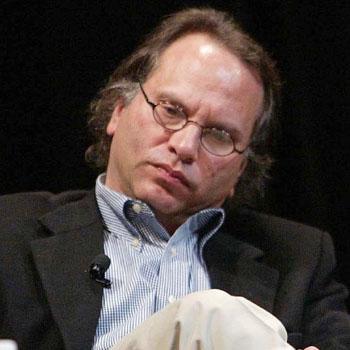 His name is Buzz Bissinger, and he is a shopaholic.
The 58-year-old author of Friday Night Lights opens up to GQ about the harsh reality of his shocking and incredibly compulsive shopping addiction and how he has splashed out $638,412.97 in just three years on both men's and women's designer duds for himself – and RadarOnline.com has the details.
Bissinger, who spends so much money on Gucci clothes that the brand flies him to Italy, Business Class, with all expenses paid and scores him front row seats at their exclusive fashion show, sitting with celebrities and fashion magazine editors, admits that his retail antics are much more than a hobby.
Article continues below advertisement
"I have an addiction," he proclaims in the 6,000-word essay. "It isn't drugs or gambling: I get to keep what I use after I use it. But there are similarities: the futile feeding of the bottomless beast and the unavoidable psychological implications, the immediate hit of the new that feels like an orgasm and the inevitable coming-down.
"It started three years ago," he continues. "I have never fully revealed it, and am only revealing it now in the hopes that my confession will incite a remission and perhaps help other of similar confession."
Some of his major splurges include a $13,900 Gucci ostrich skin jacket, a $9,800 Gucci leather evening jacket and $5,600 Gucci leather pants, and include items from the brand's men's, as well as women's, collections.
"Some of the clothing is men's. Some is women's. I make no distinction," he explains. "Men's fashion is catching up, with high-end retailers such as Gucci and Burberry and Versace finally honoring us. But women's fashion is still infinitely more interesting and has an unfair monopoly on feeling sexy, and if the clothing you wear makes you feel the way you want to feel, liberated and alive, then f---ing wear it. The opposite, to repress yourself as I did for the first fifty-five years of my life, is the worst price of all to pay."
Article continues below advertisement
Though he has been married three times and has three kids, his shopping addiction forced him to question his sexuality, and he alludes to experimenting with men and S&M.
"Was I homosexual because so much of what I wore is associated with gays? I did experiment," he writes. "And while I don't think it is my sexual being, I can tell you that gay men as a group are nicer, smarter, have a s---load more fun than straight whites. Was I veering toward becoming a dominant leather master in the S&M scene, the leather fetish an obvious influence in most of the clothing I purchased and in much of high fashion itself? I did experiment. Was I a closeted or maybe not so closeted transvestite?"
Currently going to meeting for sex addiction, "since clothing and sex for me have become one," he explains, Bissinger concludes that he is only going to "stem the addiction."
To read Bissinger's essay in entirety, visit GQ by clicking here.