From Slam Dunks To School Days! Former NBA Star Now A Crossing Guard For $14K A Year -- By Choice!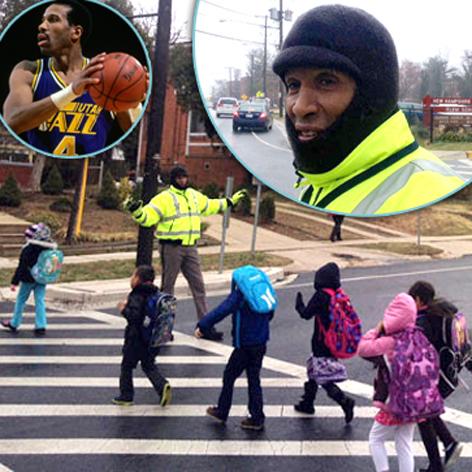 Recent horror stories of NBA greats such as Robert Swift and Dennis Rodman slipping into destitution and debt make the tale of Adrian Dantley's unlikely post-basketball career all the more heartwarming and RadarOnline.com has all the details.
The former Utah Jazz and Detroit Pistons star has hung up his jersey for good and swapped it for a florescent jacket in his current role as a crossing guard for Montgomery County Public Schools, reported WTOP.
Article continues below advertisement
Once a member of the U.S. Men's basketball team in the 1976 Montreal Olympic Games, Dantley is more than happy with his new position in life back in his home state of Maryland, where he played for DeMatha High School and Notre Dame before going pro.
"All I do is work out and lift weights all the time. I was in the weight room and a couple guys were talking saying, 'Man, I tell you what's a good job? A couple of my friends' wives they're crossing guards.' So I heard them and I said, 'That's something I want to do,'" revealed Dantley.
The 6'5" 15-year veteran of the NBA and six-time All-Star worked as an assistant coach for the Denver Nuggets for eight years after his retirement, even acting as head coach in 2010 to cover for George Karl while he battled cancer.
To many the one-hour-a-day job at Eastern Middle School and New Hampshire Estates Elementary School in Silver Spring, Md., would be seen as a fall from glory, but 58-year-old Dantley delights in keeping school kids safe.
"It's pretty fun, especially with the little ones . I just give them a high-five, talk to them a little bit, encourage them, that's it," said the gentle giant, who originally took the $14,685.50 a year job for the health care benefits but plans to stick with it for the next 20 years.
"I could sit around the house. I could do that, I don't want to do that."