Ford Pulls Ad Showing Paris Hilton Driving Car With Bound & Gagged Kardashians In The Trunk!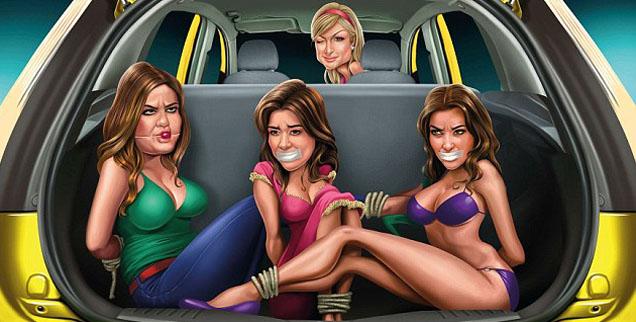 It was presumably supposed to be a joke.
But an ad showing the Kardashian sisters – Kim, Khloe and Kourtney – bound, gagged and stuffed into the trunk of a car with a gleeful Paris Hilton in the driving seat, has been pulled.
The drawing featuring the reality TV show rivals was put together as part of a brainstorming initiative by JWT India, the agency that produces ad campaigns for Ford Figo in that country.
Article continues below advertisement
It was one of a series of drawings with the tag line: "Leave your worries behind with Figo's extra large boot."
But the cartoonish images backfired and caused outrage after they appeared on the Ads of the World website.
One of the three ads shows former Italian Prime Minister Silvio Berlusconi – who is accused of sleeping with prostitutes – in the front while three scantily clad, bound and gagged females are shoved into the trunk.
Ford has since apologized for the images, Business Insider is reporting. The statement said: "The posters are contrary to the standards of professionalism and decency within Ford and our agency partners."
WPP Group, which holds JWT India, also issued an apology, branding the posters as "distasteful" and saying: "This was the result of individuals acting without proper oversight…"
You think?