Coach's Supermodel Wife Steals The Spotlight! Unknown Florida School Makes Basketball History But All Eyes Are On Her!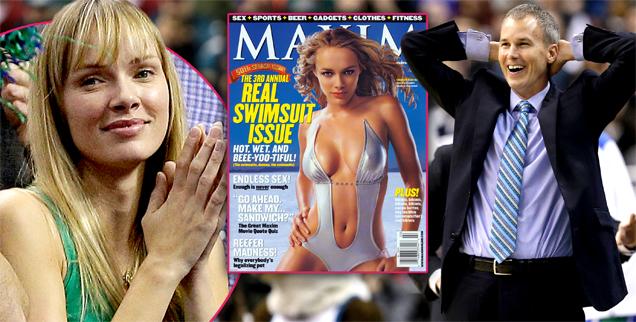 Florida Gulf Coast University is the Cinderella story of the NCAA's March Madness basketball tournament but the coach's supermodel wife Amanda Marcum is becoming THE hot story and RadarOnline.com has all the details about their fairy tale romance!
Andy Enfield is leading his college basketball team to the Sweet 16 of the basketball tournament but as amazing as that accomplishment is, it's Amanda who is stealing the spotlight.
Article continues below advertisement
She's a supermodel who became a stay at home mom when she married Andy 10 years ago and the 34-year-old has been cheering him on as his team becomes the first 15th seed to make it to the Sweet 16.
Amanda has a long history of stunning modeling jobs: she's graced the cover of Vogue and Elle and sizzled in a sexy silver swimsuit on the cover of Maxim.
She also appeared in Armani, Chanel and even Victoria's Secret ads!
The happily married couple hit it off when Andy gave Amanda a ride from New York to Boston for an NCAA tournament game. A few days later they went to another game and ended their night at a romantic dinner – at Taco Bell in Queens.
A short six months later they were engaged!
Amanda has been with their three children, two daughters Aila and Lilly and son Marcum, as they cheered dad on during his historic wins in Philadelphia.
Internet craze has dubbed her the Katherine Webb of March Madness and she's being referred to on Twitter as "Amanda #SmokeTown Marcum."