Teenage Rebellion, Pregnancy & Underage Drinking! First Look At Provocative New Series Preachers' Daughters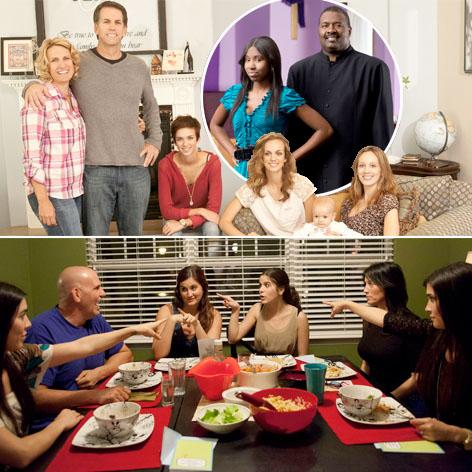 What's life like behind-the-altar for the teenage daughters of real-life preachers, after the sermon concludes?
A provocative new Lifetime docuseries Preachers' Daughters, which debuts on Tuesday, March 12 at 10 p.m. ET/PT, follows the lives of three prominent pastors' teenage daughters and their not-so-family-friendly lifestyles, which include underage drinking, teenage pregnancy and giving into temptations that daddy definitely wouldn't approve of – and RadarOnline.com has all the details about the provocative new show!
Article continues below advertisement
The hard-hitting but hilarious series focuses on the Coleman family of Joliet, Illinois, the Koloffs of Kannapolis, North Carolina and Nashville, Tennessee, and the Perrys of Oceano, California, and how the teens handle coming of age with their parents' strict expectations and code of conduct as influenced by their faith.
Ken Coleman, pastor of City of Refuge Pentecostal Church, attempts to correct the mistake he made with his older kids by keeping a close eye on his little angel daughter Taylor, who wants nothing more than freedom. Though she maintains a relationship with the Lord, Taylor indulges in rebellious teenage acts, like sneaking out and kissing boys. Her mother, Marie, attempts to keep the peace between her husband and daughter, but fears that his strict rules will push Taylor to act out even more – as they did with Ken's older daughter Kendra, who got pregnant at 20 and was kicked out of the house.
Kolby Koloff, 16, has two divorced preacher parents to deal with! Her father, Nikita, is a professional wrestler-turned-traveling-evangelist, while her mother, Victoria, is a Christian preacher and the director of two pregnancy centers. Things get heated when Kolby is ready to start dating, and her mother, who hosts a faith-based radio show, has a whole lot to say to her daughter and her friends regarding sex!
Article continues below advertisement
Over on the west coast, Olivia Perry, 18, spent her youth partying hard with drugs and alcohol and is now a teen mom! Though her life has dramatically changed, she relies on her family, Mark, a pastor of Everyday Church, and Cheryl, to help her deal with such problems as the questionable paternity of her baby. Olivia's older sister Emily, 20, is a Los Angeles model who faces temptation as part of her job, while the eldest sister Audrey, 23, is the good girl of the family.
Before you tune into Thinkfactory Media's Preachers' Daughters on Tuesday, March 12 at 10pm ET/PT on Lifetime, RadarOnline.com has photos of real-life celebrity preachers' daughters and sons! To find out what stars grew up with God, click here.