Elisabeth Hasselbeck Let Go From The View -- 'Too Extreme & Right Wing,' Claims Report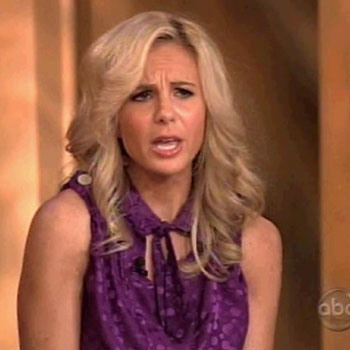 Another one bites the dust!
Just one day after Joy Behar announced her departure from The View after nearly 17 years, a new report claims host Elisabeth Hasselbeck will also not be back next season.
According to Us Weekly, a source claims the 35-year-old host is "too extreme and right wing" to remain on the hit ABC talk show.
"The viewers they polled all said she was too extreme and right wing," an insider told the tabloid.
Article continues below advertisement
"People did not watch the show because of Elisabeth. So they told her yesterday her contract would not be renewed."
Star magazine reported the news that Hasselbeck was going to be let go "in a desperate attempt to renew interest" in the show, which had its highest ratings when Whoopi Goldberg and Sherri Shepherd joined The View.
"The producers want to get back to that place, especially since The Talk is getting stronger."
MORE ON:
Elisabeth Hasselbeck
As RadarOnline.com previously reported, Joy decided to leave the show so she could focus on her standup comedy career.
"It seemed like the right time," Behar said of her departure.
"You reach a point when you say to yourself, 'Do I want to keep doing this?' There are other things on my plate I want to do – I've been writing a play, I've been neglecting my standup."
RadarOnline.com reached out to Elisabeth's agent for comment about her leaving the show after nine years, but got no response.