Daniel Craig Flips Out On Fan Taking Photos As 007 Star Shops With Wife Rachel Weisz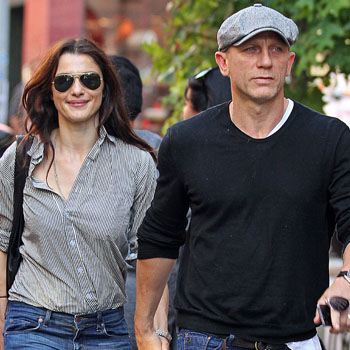 James Bond can be shaken and not stirred…if you stick a camera phone in his face.
Skyfall star Daniel Craig reportedly flipped out in a grocery store in New York when a snap-happy fan tried to take photos of him shopping with his wife, actress Rachel Weisz.
The 45-year-old Brit went into a rage when he spotted the stranger, according to U.K. newspaper the Daily Star.
"Is watching me food shopping with my wife really all that interesting to you?" a witness claims the moody star barked.
Article continues below advertisement
As his 43-year-old wife looked on the 007 actor allegedly grabbed the cell phone. The source said, "Daniel was really angry and it looked at one point like he might even destroy the phone."
But his wife of nearly two years had the magic touch, quashing the wrath of her hotheaded husband and preventing the situation from escalating.
The witness said, "But Rachel was much more calm and quickly stepped in to give the guy a stern but polite lecture on privacy.
"She really defused the situation, which could have got out of hand."
Rachel – who plays a witch in the new hit movie Oz the Great and Powerful – then convinced her husband to return the phone.
Daniel reportedly obeyed while telling the fan to delete whatever photos or video clips he may have taken. The embarrassed shopper agreed and went on to apologize to the couple.
The blond Bond star, who splits his time between London and New York, is well known for closely guarding his privacy.
In an interview with British GQ last year he said, "It's not about being afraid to be public with your emotions or about who you are and what you stand for.
"But if you sell it off it's gone. You can't buy it back. You can't buy your privacy back."
As RadarOnline.com exclusively reported, Rachel is normally the one who is less than impressed when 007 fans ask to take photos of her action star husband.