What Cheating Scandal? Coco And Ice-T Have Clearly Put Troubles Behind Them, Celebrate Her Birthday Together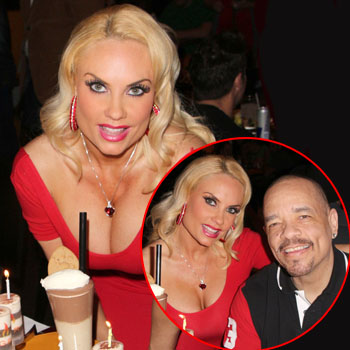 Article continues below advertisement
Guests at the bash included Jeff Timmons of 90s boyband 98 Degrees and some of the cast and crew of Peepshow , the stage production Coco is currently starring in.
Ice, real name Tracy Marrow, remained seated for the party, letting his lady hog the limelight on her big day. However, he did present his wife with a pimped out zebra print cup with a large pink 'C' on it.
Earlier in the evening, Coco tweeted: "Thank u for all the B-day wishes!! It's official..I turned 34 today!!! I love this age plus Pisces rule!!"
Later, she was presented with a unique set of birthday cakes where she got to blow out some candles. The cakes were, of course, sprinkled with cocoa powder.
Coco's birthday week started on Thursday night in New York City where, accompanied by her husband, she hosted an official birthday party at the SoHo dance club Greenhouse.
DJ Whoo kid and Chuck Barrett were on hand to provide music from behind the decks, as Coco encouraged fans to come and party with her on her Facebook page.