Mix It Like A Superstar! Celebrity Favorite Cocktail Recipes & Secrets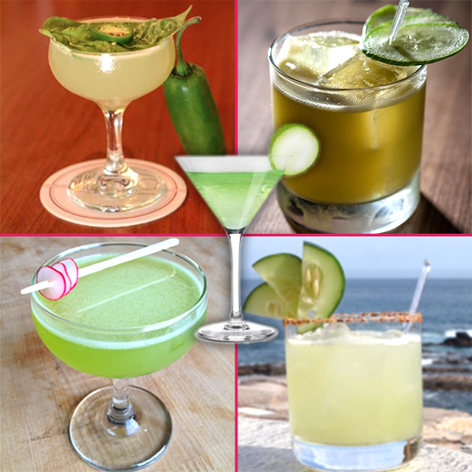 As U.S. party revelers drank themselves green over the weekend for St. Patty's day, RadarOnline.com managed to keep a clear enough head - kind of - to bring you a round up of all the celebrity favorite cocktails of the day, and tips on how to mix it like a superstar!
These recipes, enjoyed by famous faces in Los Angeles, New York and even Mexico, are just the tipple to spoil your palette and can be made easily at home.
Article continues below advertisement
But, may we stress all these potent mixes should be sampled in moderation - RadarOnline will not be held responsible for any booze-fueled mishaps readers may incur after overindulging in these alcoholic delights!
If you want to live like Katy Perry, P Diddy or Rihanna, The Ciroc St. Patty is the beverage for you. Perfected by mixologists at the SHOREbar in Santa Monica, Calif., it's mixed in a shaker with 1 oz lime juice, .75 oz Agave, and 1.5 oz shot of Ciroc vodka. For added effect, garnish with a basil leaf and jalapeno.
Black Eyed Peas singer Fergie doesn't keep trim by guzzling full-fat alcohol. Instead, she opts for Voli Light, a vodka that contains 1/3 fewer calories than other vodkas — although, it's likely the mom-to-be enjoyed an alcohol free celebration this year!
PHOTOS: RiRi's Sexiest Looks Over The Years
Try adding 1.5 oz of Voli Lemon, 3/4 oz of Apple Pucker, 2 fresh lemon squeezes, top with soda in a cocktail shaker. Shake, strain, then serve in a Martini glass garnished with an apple wedge. With only around 125 calories per serving you can devour these till your heart's content.
Article continues below advertisement
For those headed to or indeed living in the Big Apple, Havana Central has created a new trend by adding an avocado to their Avo-Rita cocktail.
To do this yourself, simply grab a small bowl, mix 1 tsp. celery salt with 4 tbsp. Kosher salt and mix well. Wet rim of margarita glass with lime wedge and dip into salt mixture. Set the glass aside. In a mixing glass, muddle the avocado, lime juice and agave nectar. Add 1800 tequila and Cointreau. Top with ice and shake vigorously. Strain into ice-filled, salt-rimmed glass.
Uma Thurman and Alec Baldwin are big fans of New York City's The LCL: Bar & Kitchen's Green Dream. And by the look of what's in it, so are we.
Start with 1 oz of Organic Avenue Giving Green Juice, 2 oz of Organic Avenue Apple Juice, 1/2 oz Organic Avenue Cold Pressed Lemon Juice, 1 1/2 oz Crop Organic Cucumber Vodka. Shake ingredients and strain over ice into a rocks glass. Garnish with a cucumber fan.
Article continues below advertisement
Last but not least, a favorite at the Esperanza Auberge Resort in Cabo San Lucas, Mexico, the Cabo Green Margarita has been enjoyed by Jennifer Aniston and LeAnn Rimes in the past.
PHOTOS: Jennifer's Bikini Body Over The Years
Make it at home by putting 4 slices of cucumber, 2 oz of silver tequila and 7 leaves of fresh cilantro in a shaker, mashed with a pestle and strain it. Then add 1 oz of pineapple juice, 1/2 oz of freshly squeezed lime, 1/2 oz of agave honey of simple syrup and crushed ice. Shake it for 10 seconds, then serve it in a margarita or whiskey glass rimmed with powdered pepper for added kick.
But don't forget Advil for the next day.