Casey Anthony Out Of Hiding! 'Tot Mom' Surfaces For The First Time In Public Since Being Acquitted Of Murder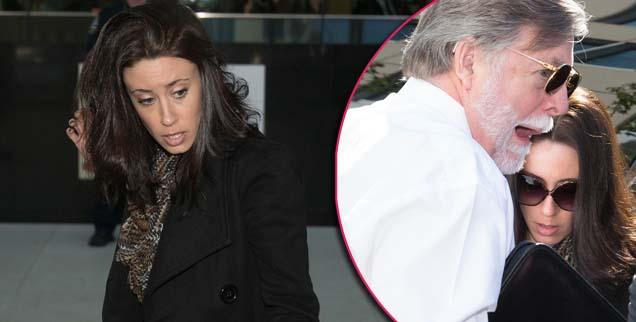 Casey Anthony finally came out of hiding on Monday for the first time since being acquitted of murdering her daughter, and RadarOnline.com has the first photos of her shocking transformation.
The notorious 'Tot Mom', 26, wore her brown hair long and swinging around her shoulders and seemed to have a tan on her face as she arrived at a bankruptcy hearing in Tampa, Florida.
In the videos that Casey has released over the past year she had short blonde hair and was wearing glasses, neither of which she had on Monday.
Article continues below advertisement
Casey has been living in Florida since her probation was revoked, and Monday she is attending a bankruptcy hearing, saying she owes more than $792,000 with a savings of only about $1,000.
Dressed in all black from head to toe, Casey wore a leopard print scarf tied around her neck.
Her lawyer Cheney Mason was by her side with his arm protectively around her as she made her way into the Tampa courthouse.
In July 2011, Casey was acquitted of murdering her little daughter Caylee Marie Anthony. A jury found her guilty of lying to law enforcement during the murder investigation.
Stay with RadarOnline.com for updates from Casey's bankruptcy hearing.