Casey Anthony Enjoys The Beach Life As She 'Seeks Closure' On 'These Things Holding Me Back'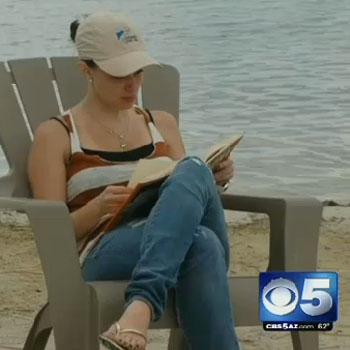 Casey Anthony has remained in hiding since her release from probation in August, and in a new interview the "Tot Mom" says she's moving towards closure and RadarOnline.com has photos of her lounging on the beach in Florida and celebrating with her legal team.
Casey, 26, filed for bankruptcy last Friday with the Middle District of Florida Bankruptcy Court and told CBS5AZ that clearing her financial status is "the key for me to move forward."
Article continues below advertisement
"She needs closure in this matter in order to move on with her life," Casey's civil attorney Charles Greene told the news site.
In one photograph Casey is seen sitting in a lounge chair in a baseball cap and tank top on the beach in Florida reading a book, while two other photos show her with her legal team in August, 2012.
Casey recently had two of her four convictions lifted for lying to authorities during the investigation into the disappearance of her daughter Caylee , but she still faces a civil trial with a woman named Zenaida Gonzalez for defamation because Casey claimed a nanny named Zenaida Gonzalez kidnapped Caylee.
MORE ON:
Celebrity Justice
"These are the things holding me back," Casey said.
"This is the key for me to move forward."
Casey's short interview marks the first time she has spoken out on the record since Caylee's death in 2008.
Shown in a strapless blue dress, Casey is all smiles in the photos with her legal team — which show colorful "Team Casey" signs in the background.
"Casey hoped the (Zenaida Gonzalez) civil case would be over in January," Greene said.
"This has been an ongoing battle for close to five years. Emotionally and physically, she can't go on for another year. She needs a clean slate from a financial perspective."