The Art Factor: Britney Spears Buys A Painting By The Side Of The Road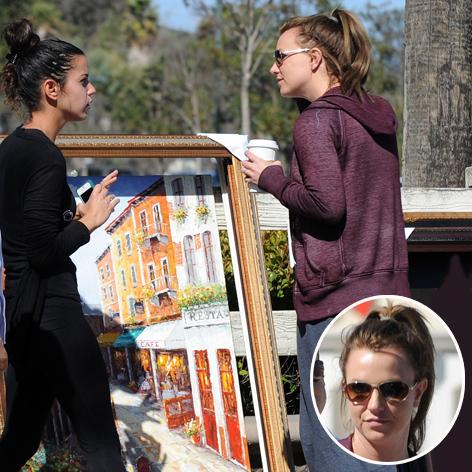 Britney Spears bought an oil painting by the side of the road that apparently struck a chord with the pop star. The artwork depicted a romantic outdoor cafe table perfect for a couple--except it had two empty chairs!
On Saturday, Britney, who announced her split from fiance Jason Trawick two months ago, left a Target store and had her driver pull her SUV over near a Calabasas, Calif. strip mall where a vendor was selling paintings.
Article continues below advertisement
She instantly became captivated by an oil painting of a French street scene and stared at it in open-mouthed awe. When the seller rushed over, Britney, who was dressed casually in a tee shirt, sweat jacket, sweat pants and sneakers, bought the artwork and had her two bodyguards load it into her SUV.
The scene depicted in the painting might have had some poignancy for Britney, as it showed a beautiful European style street, an outdoor cafe, and a table for two where no one was sitting.
The 31-year-old singer, who has always been unlucky in love, ended her year long engagement to her former manager Jason with a January 11 statement, saying "I'll always adore him and we will remain great friends."
Britney's sister, on the other hand, is making wedding plans. As RadarOnline.com reported, Jamie Lynn Spears, 21, announced her engagement to Jamie Watson this month.
Meanwhile, Britney, 31, not only ended her engagement on January 11 but also confirmed that she had quit her role on the FOX show The X Factor. The pop princess had received bad reviews on her work as a TV judge, with most calling her "boring."
But, if nothing else, Britney, mom to boys Sean, 7, and Jayden, 6, by ex-husband Kevin Federline, now has the art factor to brighten her home!