Britney Spears Has A Beach Day With Her Sons As Sister Jamie Lynn Gets Engaged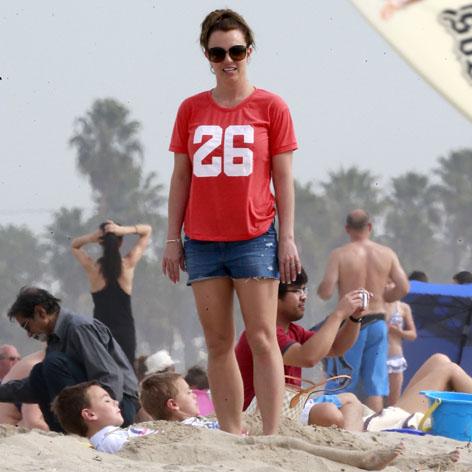 Britney Spears enjoyed a day out at the beach with her two young sons in Santa Barbara, CA. on Saturday, the same day her younger sister, Jamie Lynn announced she's planning to wed.
The pop princess, who donned Level 99 cut-off shorts, took Sean Preston , seven and Jayden, six, out of the hustle and bustle of L.A. and headed north for fun in the sun.
The trio - who were joined by two members of her entourage - spent the day burying each other in the sand and basking in the sunshine.
MORE ON:
Jamie Lynn Spears
Article continues below advertisement
While she is getting used to life as a single mom having ended her engagement to Jason Trawick less than two months ago, her sister Jaime Lynn announced her engagement to Jamie Watson.
The 21-year-old actress shared her good news on Instagram posing with her fiancé and showing off a diamond ring with the caption, 'Guessssss what????'
The couple have been dating for three years after the former Nickelodeon star broke up from Casey Aldridge , the father of her four-year-old daughter, Maddie.