One Year Anniversary Of Trayvon Martin Shooting - Hoodie Candlelight Vigils Held For Slain Teen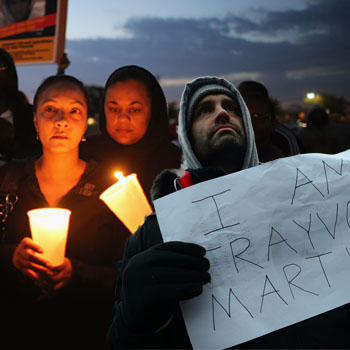 It has been a whole year since George Zimmerman, the self-appointed neighborhood watch captain, shot and killed unarmed African American teen, Travyon Martin -- but for many the pain is as fresh as if it happened yesterday, as is evident by the crowds rallying in the 17-year-old's memory in New York and Florida — and RadarOnline.com has the photos.
Trayvon was gunned down by Zimmerman on the night of February 26, 2012, as the teen walked through a gated community carrying candy and iced tea.
Article continues below advertisement
As previously reported, Zimmerman, who is due back in court March 5 for a pretrial hearing ahead of his second degree murder trial starting in June, has maintained he acted in self defense -- claiming he used "reasonable force" and that his slaying of Martin was "all God's plan".
"I feel that it was all God's plan, and not for me to second guess it or judge it," Zimmerman told Fox News' Sean Hannity during an interview last year, replying with a firm "no sir" when questioned if there was anything he would of done differently.
Zimmerman, is currently free on $1 million bail once again, after having had his previous $150,000 bail revoked last year amid allegations he and his wife, Shellie, had misled prosecutors over their finances. The couple remain in hiding, and media reports indicate they saw an increase in death threats on what would have been Martin's 18th birthday on February 5.
The shooting, which made headlines around the world and sparked angry debate and allegations of racism, occurred on a rainy drizzly night in Sanford, Florida -- and appropriately enough, as the crowds gather one year on for a "candlelight hoodie vigil" it's raining again.
Trayvon's parents, Tracy Martin, 46, and Syvlia Fulton, will be attending the "Million Hoodies Candlelight Vigil for Trayvon Martin" in New York City to remember their slain son.