'Tom Cruise Saved Me' Says Aussie Tycoon And Former Scientologist James Packer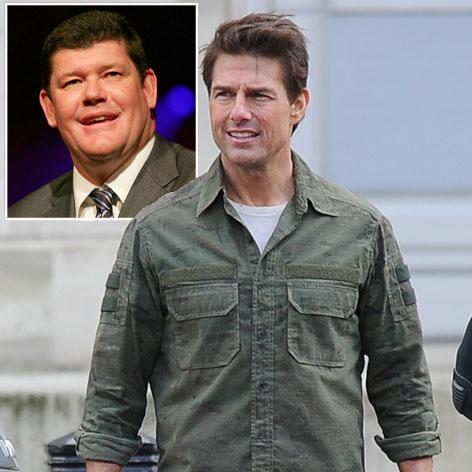 An Australian business tycoon has praised Tom Cruise for saving him when he was at the lowest point in his life.
In an emotional interview on Aussie TV, James Packer revealed how the Mission: Impossible actor was there for him when his cell phone business failed owing millions, his marriage was on the rocks and his weight ballooned.
"When I was at my lowest, Tom Cruise reached out to me," the 45-year-old said in an interview with Sunday Night. "He believed in me when other people didn't."
Article continues below advertisement
Packer's friendship with Cruise – who was married to Australian actress Nicole Kidman for 11 years – developed in 2002.
The actor offered support and the businessman, who says he was depressed at the time, entered the world of Scientology.
He said that when he was at his lowest, "Tom Cruise reached out to me and it was a surreal thing.
"I'd met him once or twice…and he was in Australia and we got together. I think he could tell that I was in pain. He invited me to go to his house to go skiing with him at Christmas."
Packer said that six months after his company One.Tel went broke he spent a couple of weeks with the actor. The pattern continued every Christmas.
"And he never asked me for anything, in our entire life," says Packer who has since left Scientology. "He believed in me when other people didn't. I'm very grateful."
He tearfully added: "I just think he's a very special person."