Is This How They Really Feel? Flight Attendant Fired After Photo Of Her Giving Passengers The Finger Goes Viral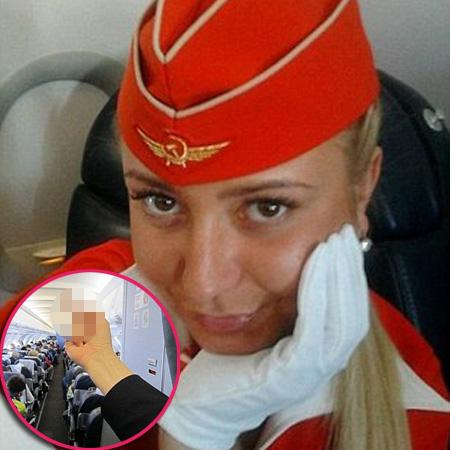 Move over, Steven Slater.
Russian flight attendant Tatiana Kozlenko was fired by Aeroflot airline, RadarOnline.com has learned, after a picture of a hand giving the middle finger to a plane full of passengers was uploaded to her page on Vkontakte, a Facebook-esque site.
Of course, the unique image quickly went viral, wound up on Twitter, and it wasn't long before her bosses were apprised, and reacted in kind.
Article continues below advertisement
The airline, explaining the termination, said that "posting this photo shows Tatiana's attitude towards passengers and her duties," adding the fired flight attendant "acknowledged her fault when she spoke to her managers."
Kozlenko, however, denied any wrongdoing in a subsequent post on Vkontakte, saying that it wasn't her hand in the picture.
"I don't consider myself guilty!" she wrote. "The photo was added to my page, I only tagged myself on it!!! The hand isn't mine, the plane is not my company's!!! I don't understand what they spoil my life for!!! I'm asking you for help and support!!"