The Stars' Oscar Slim-Down Solution! New Sweat-Inducing Fitness System Is 'The Ultimate Pre-Event Workout'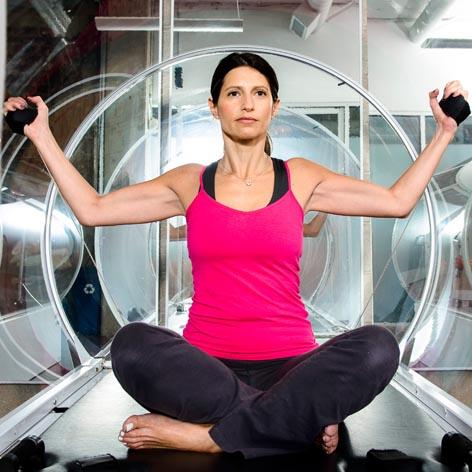 With just a week to go until the Oscars, stars across Hollywood are scrambling to get into their best shape to shine on the red carpet inside and out.
Lucky for them a revolutionary new workout system has launched in Los Angeles that promises to fight fat, fend off cellulite and get them perfectly toned before slipping into that designer gown!
Recently imported from Argentina, the Iobella Method incorporates heat (working out in a 98 degree thermal pod), simple Pilates-style moves, electrical muscle stimulation, and Oxygen 3 therapy forcing fast fat burn, muscle re-shaping and fluid draining, while minimizing cellulite and increasing circulation.
Article continues below advertisement
Fitness expert and QuickieChick's Cheat Sheet author Laurel House tested out the revolutionary new workout and is a firm believer in the rapid results.
"I have been doing Iobella two or three times a week for the last couple of months and I have definitely noticed a difference in my body, particularly my butt! It's more toned, lifted and firmer than it has ever been," the E! News Lifestyle Expert exclusively told RadarOnline.com.
House dubs Iobella as "the ultimate pre-event workout," because you instantly drop water weight, the O3 improves your skin, and bio-electric toning forces focused muscle contractions in a particular area, making your muscles act like a girdle, the fitness expert explained.
"It's also great for the arms if you're wearing a strapless gown and for your abs," she added.
The 30-minute workout, 20 minute bio-electric stimulation, and 20 minute spa-like O3 lounge is anything but your average personal training session, and what celebrities love most is that it's fast!
Forget those hour-long workouts that feel more like a chore. "The quick high rep, low intensity, no breaks style encourages maximum fat burning and muscle toning," explained Laurel.
For more information on Iobella, visit iobella.com, or check out House's latest hot YouTube video showing her sweat-inducing workout.