From Mumbai To Montana – Seven Most Expensive Homes In The World: Take A Peek Inside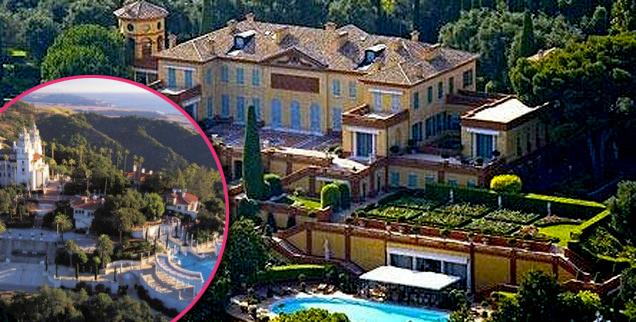 Got $1 billion to spare?
If so, you're one of the privileged few on the planet who can afford the most opulent homes around the globe.
From the ski slopes of Montana to a skyscraper in Mumbai, India, the extremely wealthy can cherry pick exactly where they want to live.
And for those who haven't got enough cash to make a down payment RadarOnline.com has photos to offer a glimpse into how the rarefied 1 percent lives…
Article continues below advertisement
7. The Pinnacle Montana
Owned by real estate developer Tim Blixseth and his wife Edra, this $155 million ski lodge is based in Montana. The well-heeled couple could get lost in their 10 bedroom home. But they'd never get cold because every floor is heated, including the driveway, according to CelebrityNetWorth.com.
The Blixseths also own the Yellowstone Club, a ski resort that only billionaires can belong to.
6. Elena Franchuk's Victorian Villa
Its price tag is a whopping $161 million. But given that this Victorian villa is located in Kensington, South West London – a plush part of Britain's capital – it's no surprise. Its owner is Elena Franchuk – a Ukrainian businesswoman and philanthropist. The property was originally a girls' prep school. Now it boasts 10 bedrooms, a swimming pool, panic room, a theater, a sauna and a gym.
Article continues below advertisement
5. Hearst Castle
William Randolph Hearst – the publishing tycoon who inspired the movie Citizen Kane – built this sprawling estate in 1919. With 29 bedrooms, three pools, a movie theater, a nightclub and several tennis courts, the mansion could house its own little community. In 1957, shortly after the founder's death, the Hearst Corporation donated the property to the state of California, where it is located. Its current value is $190 million.
4. Fairfield Pond
Built by investor and businessman Ira Rennert, this 63-acre Hamptons, New York compound deserves to be on this exclusive list. Worth $220 million it features 100,000 square feet of buildings, a basketball court, a bowling alley, squash courts and tennis courts. There is also no shortage of space for houseguests given that there are 29 bedrooms and 39 bathrooms.
3. One Hyde Park Penthouse
Article continues below advertisement
At $225 million One Hyde Park Penthouse is not your average London flat. It reportedly has six bedrooms, bulletproof windows, a wine-tasting room and an underground tunnel. According to REP Interactive it costs roughly $9,000 per square-foot.
2. Villa Leopolda
Located on the Cote D'Azur, France this palatial estate was built in 1902 and once owned by King Leopold II of Belgium. A Russian billionaire reportedly offered $750 million to buy the property before backing out.
It's currently without an owner. But prospective buyers might like to consider the 19 bedrooms and 14 bathrooms in addition to the formal gardens that are tended to by 50 full-time gardeners.
1. Antilla
Slumdog Millionaire? Not quite. The most expensive home in the world is based in Mumbai, India – the same place that was the setting for the Oscar-winning film. But with a price tag of $1 billion this 40,000 square-foot mansion is anything but a slum. Stretching up 27 stories, six of those floors house owner Mukesh Ambani's collection of 168 cars. It also features three helicopter pads on the roof, a home theater, a two-story health center and a Krishna temple.