Rihanna Wears Fishnet Skirt On Birthday Stroll With Chris Brown In Hawaii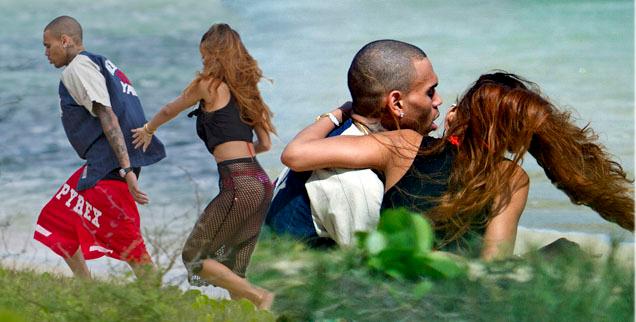 It's been four years since he brutally beat her, but all seemed to be forgotten as Rihanna celebrated her 25th birthday in Hawaii Wednesday with her current beau (and former attacker) Chris Brown.
The tantalizing Take A Bow singer "covered up" her bikini with a super see-through fishnet skirt, walking with the Forever singer along the idyllic Hawaiian shoreline.
Brown wore a New York Yankees jersey and super saggy red shorts as he held the Umbrella singer's hand.
Article continues below advertisement
Of course, the social media-savvy stunner shared her special day with her fans, tweeting a self-pic with the caption, "Pour it up pour it up! #birthdaybehavior."
Fun fact: Hau`oli L? H?nau translates to "Happy birthday" in Hawaiian dialect.