What Happened To The Siegels & Their Outrageously Gaudy Home? The Queen Of Versailles Spills All -- You Wont Believe Her 'One Regret'!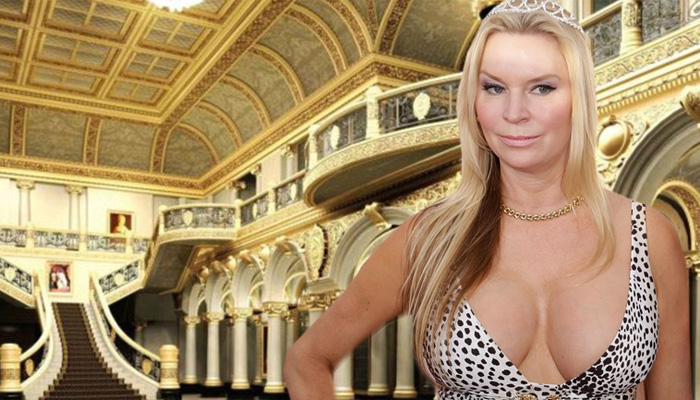 Jackie Siegel, better known as the much maligned subject of the riveting The Queen of Versailles documentary, only has one regret about her screen debut … and you'll likely be very surprised what it is given the not so flattering on-screen portrayal of the busty blonde and her family!
The 47-year-old former Miss Florida was captured on camera with her billionaire timeshare mogul husband, David, trying to create the home of their dreams – a gaudy, over-the-top sprawling 90,000-square-foot mansion (the largest single family dwelling ever built in the U.S.) modeled on France's 17th century Palace of Versailles.
Article continues below advertisement
And Jackie told TODAY show correspondent Janet Shamlian on Friday that she would have no hesitation in doing it all over again!
"What I would do different if I had known so many millions of people would be seeing it... is I would have worn more makeup," the ditzy ex-beauty queen explained.
Not surprisingly, the mother-of-eight from Windermere , Florida said she is hoping to land her own reality TV show once work on her humungous home is finally finished.
However, despite his larger-than-life wife's penchant for starring in front of the camera, David, founder of Westgate Resorts, said he does NOT want to appear on TV.
Instead, he wants to finish construction on the mega-mansion that's taken more than 5 years to build – following a financial crisis and recession that caused the project to be stalled and almost forced him into losing his business and title to the property -- all of which ended up becoming the main focus of the documentary.
Article continues below advertisement
The property , 20 miles outside Orlando, will have a whopping 30 bedrooms and 23 bathrooms when completed and offer stunning views over Lake Butler.
All 23 bathrooms will have full-sized hot tubs, while the hand built windows cost more than $2 million. Bespoke materials have also been sourced from all over the world for the outrageous and overblown interior decor.
For the kids -- a roller rink, children's theater, bowling alley and three swimming pools are being created, while for the fitness-concerned two tennis courts will be installed.
Outside, there will be a large boat house, formal gardens, a one-story gatehouse, as well as an underground car park with space for 20 cars.
"We never sought out to build the biggest house in America. it's just what kind of happened," Jackie explained.
Now that the Siegels have taken the half-finished property off the market (they listed it for $65m back in July last year) they are looking forward to completing the work.
Article continues below advertisement
"We're finishing it to actually finish it. but we do want to live in there," Mrs Siegel added.
As previously reported, the Siegels were far from pleased with the way they were portrayed in the documentary, and accused the filmmakers of likening them to trashy reality TV stars.
In an official letter, exclusively obtained by RadarOnline.com to director Lauren Greenfield's attorney, David Siegel claimed she "didn't hesitate to orchestrate unrealistic over-the-top scenes for entertainment purposes even when they vastly distorted day-to-day life. That's why what you call a documentary, I call a Real Housewives Of Orlando pilot."