Music's Biggest Names Rub Elbows Backstage At The Grammys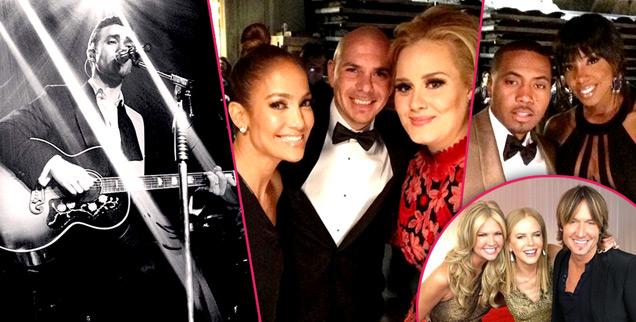 We've got backstage photos from Sunday's 55th annual Grammy Awards at the Staples Center in Los Angeles, where music's brightest stars converged for an evening of pageantry and performance.
Justin Timberlake, who took the stage Sunday, uploaded pics of himself with a camera crew, as well as with fellow showman Ryan Seacrest.
Ryan tweeted, "We be on our suit and tie. @jtimberlake #grammys #greengoesglam #eredcarpet."
Article continues below advertisement
Carly Rae Jepsen tweeted a shot of herself preparing for the show with her beauticians, writing, "Early morning glam squad! Getting all dolled up for the red carpet! #grammys mmmmmm... Coffee!"
New sensations met longtime legends when Sir Elton John and fellow Englishman Ed Sheeran posed for a shot in advance of their collaboration later in the event; and Carrie Underwood posed with the great Bonnie Raitt.