Molly Sims Shows Off Hot Post-Pregnancy Bikini Body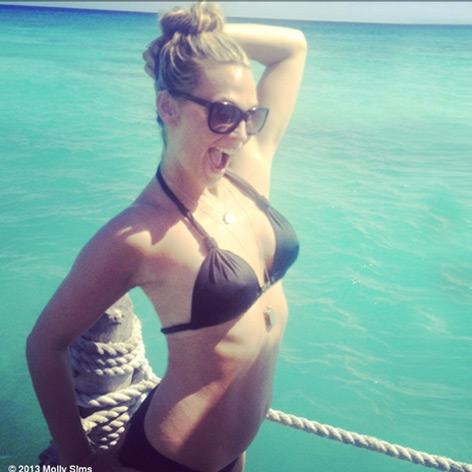 She's made no secret of her struggle to lose the 50 lbs. she gained while pregnant but Molly Sims has finally reached her goal and what better way to show it off than in a bikini.
The actress - who gave birth to her son, Brooks, in June 2012 - took to Twitter to flaunt the results of her strict weight loss.
"Finally bikini ready & pulling out those @SI_Swimsuit poses," she wrote. "Just in time for my beside Lauren Kucerak's big day!"
Article continues below advertisement
She then posted the cute photo of herself posing in a black bikini in a tropical location showing off her enviable figure.
The 39-year-old is clearly proud of what she has achieved and has been open about the battle of the bulge since becoming a new mom.
Unlike other A-list stars who drop the pregnancy pounds almost immediately after giving birth, Sims has had to work hard to shift the weight.
Sims, who was the Sports Illustrated Swimsuit Issue cover girl in 2004 and 2006, openly admitted to the struggle of getting back into shape.
"The pressure is part of the problem because we feel like we need to look like a 20-year-old or someone in a magazine who just stepped out three weeks later and it's not realistic," she said on TODAY in October. "I gained 50 lbs. and it was hard and even harder after. I have three Spanx on right now."
Sims has been working out with celebrity trainer Tracy Anderson as well as following a strict diet with plenty of lean protein and no salts or oils.
"Some women will say, 'Oh my god, it's so easy, and I eat M&M's and I breastfeed all day long' and that's just not true," she told Us Weekly.