Father Charged With Child Abuse After Son, Lil Poopy, 9, Makes Stink With Illicit Booty Slapping Rap Video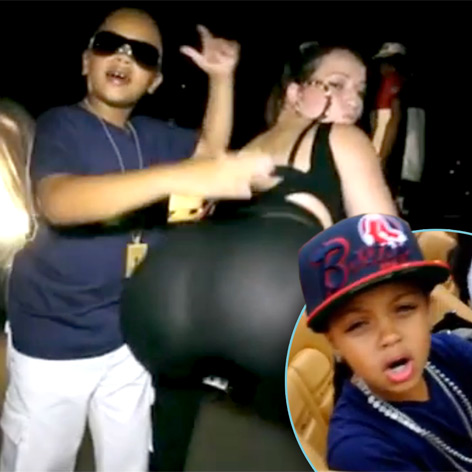 A 9-year-old's rapping about "hoes," cocaine, guns and big booties is definitely inappropriate, and may also be illegal!
Luis Rivera, whose son, Luie Rivera Jr. recently released a slew of sexually explicit rap videos under the rap name Lil Poopy and is signed by rapper French Montana, is in a whole lot of hot water after the Brockton, Mass. police department filed a complaint alleging child abuse or neglect against him – and RadarOnline.com has the details.
Article continues below advertisement
In the videos, which can be viewed on the YouTube channel lilpoopythedon, the fourth grader can be seen engaging in such activities as slapping the behinds of adult women and provocatively gyrating against them, dancing in nightclubs, rapping about guns, cocaine, designer clothes and trips to Europe, all while people in the crowd throw wads of cash at him.
"It's a bit much for a 9-year-old. It warrants the attention of the Department of Children and Families," police Lt. David Dickinson said Sunday afternoon, according to the Enterprise News.
Police filed a report called a "51A" with the state after viewing the videos, which is the legal mechanism under which the state Department of Children and Families can investigate alleged abuse or neglect of a child under the age of 18.
Lil Poopy, who performs with a group called Coke Boys and is sometimes referred to as the Cocaine Cowboy, reportedly earns $7,500 appearing at local clubs and has even shared the stage with P. Diddy.
Article continues below advertisement
"I'll call my lawyer first thing in the morning," Rivera, 30, said to the Enterprise News when informed of the police complaint against him on Sunday afternoon. "He's not doing anything wrong. He's acting."
He defended the YouTube videos by likening booty-slapping to "how adults praise children who are participating in baseball games," and also pointed out that the people in the videos were wearing clothes.
"When you hit a home run, when you go to the bleachers, they tap you on the butt," Rivera said. "He's not doing anything wrong."
Though his father claims that he never curses in his songs, video of his live performances with French Montana show him rapping along to profanity ridden lyrics.
Do you think that Lil Poopy's pops is guilty of child abuse? Sound off below.
radar_embed service=youtube src="https://www.youtube.com/embed/UIPnN0DcONs" width="560" height="315"