Exclusive
Lamar Odom's Ex Says They're Getting Professional Help For Teenage Daughter's Depression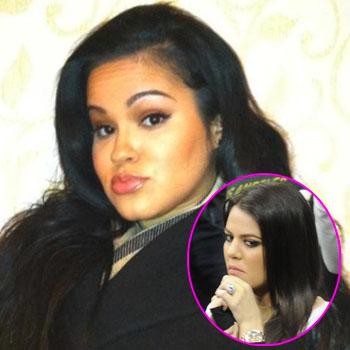 Lamar Odom's teenage daughter Destiny Odom is struggling through depression and may be cutting herself and her mother exclusively told RadarOnline.com that a professional has been brought in to help deal with the tragic situation.
Liza Morales is the ex-girlfriend of Lamar and the mother of his two children , and she is responding to a report in Star magazine that Khloe Kardashian is working hard at her relationship with her step-daughter after the teenager tweeted a heartbreaking message to her followers.
Article continues below advertisement
"I feel as If I am drowning in my own emotions, and I have no home to save me," Destiny wrote on January 27. After a follower asked when was the last time that she cut herself, and how often, Destiny sadly wrote: "Tonight and I don't count."
Her mother exclusively told RadarOnline.com that they are taking Destiny's cry for help seriously but denied that the child is cutting herself.
"This matter has been addressed with our daughter. We have a professional on board to evaluate the situation; Destiny is not hurting herself but we are not taking this lightly," Liza told Radar.
Liza is currently starring on the hit TLC reality show Starter Wives Confidential where she recently bashed Khloe, saying: "I don't know if she's good maternally, I don't know."
She told RadarOnline.com that she is focused on her family now.
"My children have always and will always be my top priority in life.
PHOTO: Kim Gets Ready For Bikini Shoot
"With the added pressures of Hollywood and the instant attention of social media, it's not always easy for a teenager to express their emotions in the best way. This is a private family matter, and we would appreciate respect and privacy during this time."