Khloe Kardashian Vows To Help Stepdaughter, Following Her Emotional Tweets About Depression & Cutting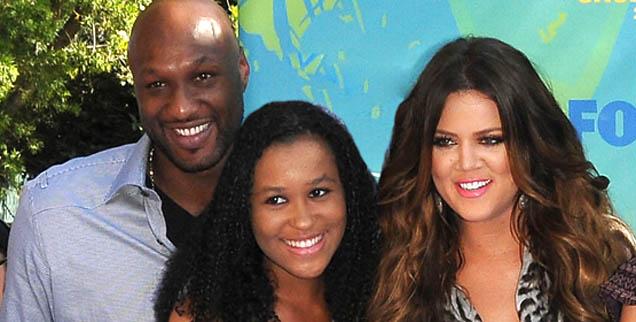 Khloe Kardashian is ramping up her efforts to be a good stepmother as she vows to help Lamar Odom's 14-year-old daughter through an emotional and troubled time, Star magazine is exclusively reporting.
The 28-year-old reality TV star was shocked after learning that Destiny Odom, the L.A. Clippers star's daughter with his ex-girlfriend, Liza Morales, had openly expressed feelings of depression and low self- esteem, while also admitting to cutting herself.
Article continues below advertisement
"I feel as If I am drowning in my own emotions, and I have no home to save me," the troubled teen heartbreakingly tweeted on January 27.
A follower asked when the last time was that she cut, and how often, prompting Destiny to admit: "Tonight and I don't count."
According to Star, the young girl has felt ever increasingly isolated in recent months and hasn't been able to see her mother – who is currently starring in the reality show Starter Wives Confidential – as much as usual.
In addition, Star reports that Destiny also wishes she could spend more time with Lamar and Khloe.
"Her dad wasn't around much when she was growing up," a source tells Star.
"But Khloe has made a real effort to develop a strong relationship with Destiny."
For the full story and all the details on Destiny's emotional turmoil and how Khoe plans to help her troubled stepdaughter, pick up the new issue of Star magazine – on newsstands Thursday.