Khloe Kardashian's Husband Lamar Odom Sues His Baby Mama Over Child Support & Visitation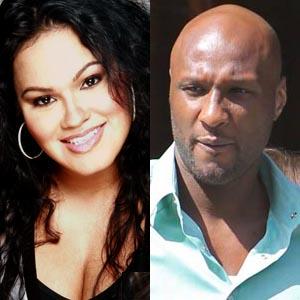 Liza Morales was shocked earlier this month when her ex, Lamar Odom, sued her over visitation and support of their two kids, RadarOnline.com has learned.
The LA Laker star filed a petition in Manhattan Supreme Court on November 5, asking a judge to to set a "parental access schedule" and "reasonable child support," the New York Post is reporting.
Now Morales is fighting back, telling The Post that Lamar, who married Khloe Kardashian 14 months ago, "basically checked out as a father four years ago."
Article continues below advertisement
Odom and Morales, who never married had three children. Their youngest Jayden, died from SIDS in 2006 when he was just six months-old. The couple's relationship was already teetering but the tragic death tour them apart for good.
"When we lost our son, he was nowhere to be found," Morales said.
In previous stories, RadarOnline.com exclusively reported that Morales learned of Lamar's plans to marry Khloe via a text message where he said he wanted the kids to attend. She's since publicly blasted Khloe for claiming she had "bonded" with Lamar's kids.
EXCLUSIVE: Lamar Odom Texted His Baby Mama About His Wedding To Khloe
The clothing designer moved with their kids, Destiny, 12, and L.J., 9, to Manhattan about a year ago. As RadarOnline.com reported, after the Lakers won the NBA championship in June, Lamar did have his kids visit him at the LA-area home he shares with Khloe.
Morales also claimed there has been some suggestion that if Lamar and Khloe do a reality TV series together, they'd want to make his kids part of it.
Article continues below advertisement
That's not going to happen, Morales said. She wants her kids to have "old-school values.
"This whole going to court thing -- people, my neighbors -- I don't want them to think this is the kind of mother I am, that he has to go to court for visitation," Morales said. "It's just really shocking because Lamar knows the truth."
RELATED STORIES:
Lamar Odom Celebrates Lakers Win With Khloe & His Kids
EXCLUSIVE: Lamar Odom's Candlelight Surprise Party For Khlow Kardashian
Khloe Kardashian & Lamar Odom Leave On Belated Honeymoon