One Hot Mama! Pregnant Kim Kardashian Shops For Lingerie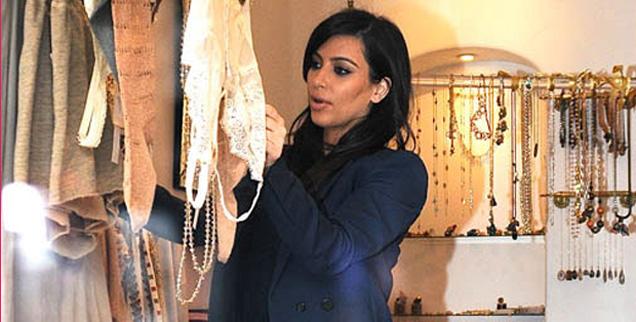 Just because Kim Kardashian's pregnant doesn't mean she's neglecting her sexier side.
The 32-year-old beauty, who's expecting Kanye West's baby in July, went shopping for lingerie in Beverly Hills Tuesday, and we've got the shots for you right here on RadarOnline.com.
The reality star, clad in a navy business suit, was accompanied by a pretty pal as she browsed the unmentionables at the swanky shops along Robertson Boulevard, including the boutique Curve. There, she seemed especially enamored with a lacy low-cut corset.
Article continues below advertisement
The shopping expedition came after the E! starlet met with attorney Laura Wasser, and grabbed a bite at Nate 'n Al's deli.
Kim told Jimmy Kimmel last month that despite her family's penchant for the cameras, her "baby is not going to be on our show.
"When he or she decides that's what they want to do, then that will be a decision. It's a tough decision … from the start, as of now, that's just a personal choice that Kanye and I have made -- we're going to try to keep it as private as possible."