Top Model's Amazing Comeback A Decade After Horrific Accident Left Her Mutilated & Mangled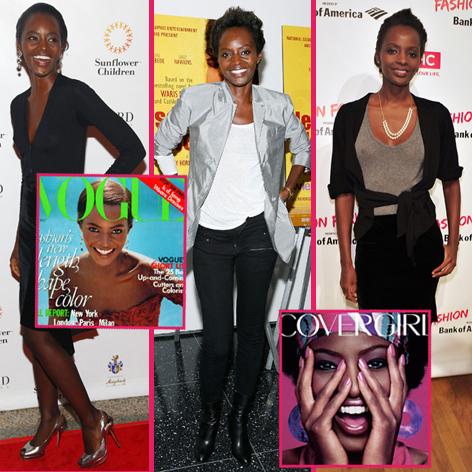 Kiara Kabukuru thought her hugely successful career as a model was over for good after a horrific traffic accident nearly killed her, but following several reconstructive surgeries and years of recovery, she is ready for her close up again!
The 37-year-old Ugandan beauty, who is a close friend of supermodel Gisele Bundchen, details her rise to fame as a top model in the 1990s, how her career was derailed after she was hit by an 18-wheel truck and left mutilated and mangled -- and how she got her groove back and is returning to the modeling industry -- in the March 2013 issue of W magazine, and RadarOnline.com has the details.
Article continues below advertisement
After escaping Uganda as a political refugee in early childhood and spending her youth in Los Angeles, she signed with a modeling agency around the age of 16, where her agent decided to change her name from Alice to Kiara, to make her appear more "exotic."
Her first job was a Coke commercial, which led to a Levi's ad, meetings with Calvin Klein, exclusive bookings with Gucci, a L'Oreal contract, a Vogue cover and palling around with fellow supermodels Stephanie Seymour, Naomi Campbell, Bridget Hall and Elaine Irwin.
"And then at the height of it all, I'm about to sign a contract with Covergirl, and I get into the accident," she tells the fashion magazine.
Over Memorial Day weekend in 2000, she was riding her bike in New York City when an unlicensed driver of an 18-wheel truck slammed into her. After being dragged, screaming along the pavement, the truck finally stopped, and the model began picking up her teeth off of the ground.
Article continues below advertisement
"Everyone was looking at me like, 'Oh, my God.' And nobody would bring me a mirror," she explains about the scenario at the hospital.
Not only had the skin on her arms and back been ripped off and her jaw, teeth and gums had to be reconstructed, but her ribs, pelvis, sacrum, pubic bone, and right ankle were broken.
"Any movement was excruciating," Kabukuru, who was in a wheelchair for two months, explains about the painful recovery period. "And not being able to bathe or go to the bathroom on my own was devastating."
In 2003 she moved back to Los Angeles where she started rigorous physical training as well as getting seven more reconstructive surgeries to rebuild her jaw, and somehow, she ended up with no visible scarring.
She started dabbling in modeling once again in 2008, but was "still a bit shell-shocked" and decided to move back to New York in 2010, where she did yoga every day and became a raw foodist.
A year ago, she says, Gisele suggested Kiara throw herself full time back into modeling.
"I just knew there was something unfinished there," Bundchen tells W. "I said, 'Well, do you ever think about modeling again?'"
Bundchen helped her get her first gig with Carine Roitfeld's magazine CR Fashion Book, and now Kabukuru is back in action and up for a major cosmetics contract.
"In my life, there have been all these reversals of fortune," she explains. "I think I was proving to myself my strength and my ability to survive. And now I am ready."