Michael Lohan's Baby Mama Kate Major Has A Foul Mouth! Sued For A Hate Crime After Using Racial Slurs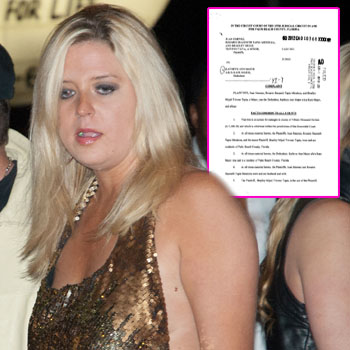 New mom Kate Major's past is coming back to haunt her – Michael Lohan's baby mama has been slapped with a lawsuit claiming she committed a hate crime by using offensive racial slurs against a family during a fight last year and RadarOnline.com has the shocking legal documents.
Kate, 30, has been sued in a Florida civil court for a hate crime for allegedly calling a family "spics" and the mother a "Spanish whore."
Article continues below advertisement
Read the lawsuit against Kate Major Here
Gossip Extra first reported that Juan Jiminez and Rosario Mendoza have filed the lawsuit against Kate, who was arrested after the incident took place on Jan. 14, 2012 in the parking lot of her apartment building.
Juan Jiminez, 62, claims in the documents that Kate physically attacked him and Rosario Mendoza by "hair pulling, punching and throwing" her to the ground.
It was during this altercation that Kate apparently hurled the racial epithets "spics" and "Spanish whore" at the group and "threatened them with additional body harm," and "repeatedly threatened to kill them."
Jiminez and Mendoza are seeking a financial settlement with the lawsuit.
Michael Lohan and Kate welcomed their son Landon Lohan on January 30, and he defended the mother of his youngest child, calling the allegations "ridiculous," and denied the claims.
"This was not a hate crime. You'll see when the case is done what really happened."