Exclusive
In-N-Out Heiress Wanted Fast Divorce From Second Hubby, 'Uncomfortable' Dating While Still Married, Due To 'Deep Religious Beliefs'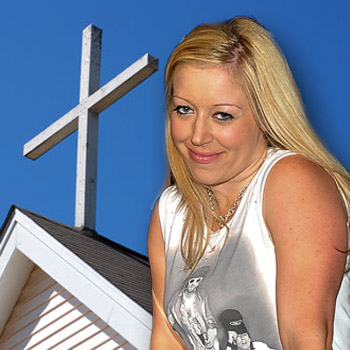 Lynsi Torres, the 30-year-old billionaire president of the In-N-Out burger chain, requested the judge bring about a quick resolution to her divorce from second husband, Richard Martinez, because her deeply held religious beliefs prevented her feeling comfortable dating another man while still legally married, RadarOnline.com is exclusively reporting.
The reclusive and media shy heiress was married to Martinez from 2004 until 2011, and the couple has 8-year old twins together. She married her third husband, race car driver, Val Torres Jr. the same year of her divorce, just shortly after it had been finalized.
Article continues below advertisement
EXCLUSIVE DOCUMENTS: Read In-N-Out Burger Heiress' Sworn Divorce Declaration
In a sworn declaration executed in June 2011, the burger princess outlined her deep religious beliefs, which she explained are mirrored by the In-N-Out corporate philosophy: "I am a deeply spiritual and religious person both privately and publicly....In-N-Out Burger has a well-known and long standing reputation as a corporation that is operated with a Christian message and philosophy," the documents read.
"In-N-Out Burger's reputation as a Christian corporation dates back to when my grandparents founded the business and I have worked hard to maintain that reputation....by continuing to include the biblical reference 'John 3:16' on the bottom of all our cups.
"I am uncomfortable dating until my marital status with Respondent is terminated. Dating another man while married is contrary to my Christian beliefs and of many people with whom I work with at In-N-Out and through my charity work. I am concerned if I were to start dating before judgement is entered in this matter it would be detrimental to my public Christian image, which will undoubtedly damage In-N-Out's corporate image, and possibly effect our profits and limit our ability to market to faith based organizations. Until the judgment in this matter is entered, I will either be forced to delay any new relationship, or violate my personal beliefs."
As RadarOnline.com previously reported, Lynsi's grandparents, Harry and Esther Snyder, founded the original In-N-Out burger joint in 1948, and grew the company to an astounding 280 stores in five states.
After Harry passed away in 1976, followed by Esther in 2006, Torres became the sole heir to the company, as her father, H. Guy Snyder died of a drug overdose when she was 17.
Unlike most other burger conglomerates, In-N-Out remains a privately held company.