What Will Happen To The Hotel Room Where Whitney Houston Died?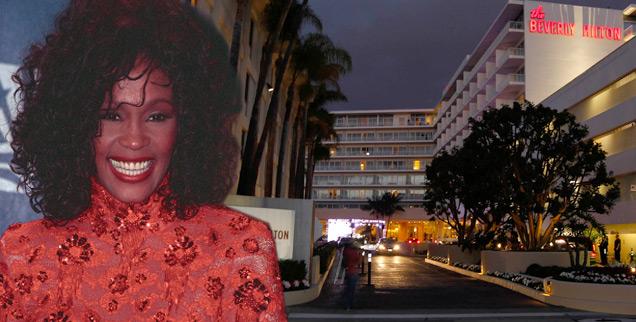 It's a year since Whitney Houston tragically died in the bathtub of her Beverly Hilton suite in Los Angeles.
But the glitzy hotel has yet to decide what will become of the room where the I Will Always Love You singer took her last breath.
Last February 11, Houston was found dead in Room 434. While the who's who of the music world gathered downstairs at the Beverly Hilton to attend Clive Davis' annual pre-Grammy Awards party, upstairs police were processing the room where the 48-year-old diva lay dead.
Article continues below advertisement
No guests have used the suite since. According to the Los Angeles Times, not only has it been taken "off rotation," the number has been removed from the door.
Hotel management is staying coy, but The Times reports they may be making plans to make the room available for guests once more.
"Out of respect to the family and fans of Whitney, the guest room where she stayed was immediately taken out of inventory and all contents were removed," they said in a statement. "Hotel management is considering options to repurpose the space but has made no final decisions at this time."
Even if Room 434 is made available to guests again, any fans wishing to take home items from the suite where the singer died will be out of luck.
The Beverly Hills Police Department apparently stripped the room of its furniture, including the bathtub in which the singer was found face down.