Greek Authorities Under Fire For Photoshopping Mug Shots!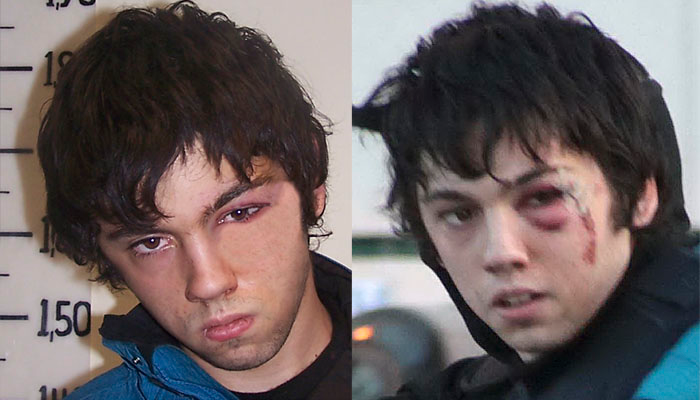 Greek authorities are catching a lot of flack right now and may even be under investigation soon because they've allegedly been Photoshopping mug shots to hide injuries inflicted by police officers during or after an arrest, RadarOnline.com is reporting.
According to Reuters, a Greek prosecutor ordered an investigation after four suspected bank robbers were allegedly beaten while in police custody — but their published mug shots were magically absent from any type of injury, thanks to the wonder of Photoshop.
Article continues below advertisement
The men were ages 20-25 and after their arrest, photographers snapped photos last Friday of them being escorted by the police, which clearly showed them bruised, cut up and bleeding.
But in the mug shots released over the weekend to the public, one had been Photoshopped to remove a purple bruise from underneath a suspect's eye and in another cuts and bruises appeared to have been erased from a suspect's face.
"Photoshop was used and I -- just like you, just like any reasonable person -- asked why was this done?," Public Order Minister Nikos Dendias told a Greek television station when asked about the mug shots.
"Because if they hadn't been Photoshopped, in order to make them resemble an image that the average person would recognize them in, then the photos wouldn't have been published in the first place."
Article continues below advertisement
There was a letter written by the mother of one of the suspects that accuses the police of brutality and unnecessarily injuring her son.
"Police authorities in Greece are following the examples of torture in the Guantanamo prison," her letter, which was published in Greek papers, said.
"My son -- and the others arrested -- was not treated like every other law violator but with particular hatred because he is an anarchist."
Do you think the mug shots were Photoshopped so the suspects would be recognizable, as Dendias claimed, or to cover up police brutality as a Greek prosecutor alleges? Sound off below…